Public and Private Bus Accident Liability In Pennsylvania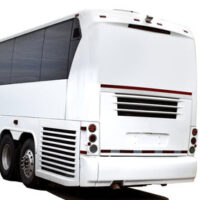 Most people do not worry that they will ever be involved in a bus accident, but in reality, they are more common than we like to imagine. It can be frightening if you have been injured in a bus accident, but you are not without options to try and get your medical bills covered. A knowledgeable attorney with a good understanding of Pennsylvania law may be able to assist.
Causes & Effects
In 2016, the Federal Motor Carrier Safety Administration (FMCSA) documented 226 fatal bus crashes, which was a 14 percent decrease from the previous year. There are many different potential causes for a bus accident, though many are attributable to driver error (for example, substance abuse, reckless driving or speeding, and fatigue). Other potential reasons for bus accidents include unexpected inclement weather or poor pavement conditions, or faults with the bus itself. There can also be multiple factors, especially if multiple vehicles are involved in an accident.
While a school bus is engineered to minimize the risk of injury to its passengers, not every bus has that benefit, and as such, a gamut of injuries can be seen after a crash. Harm suffered can include everything from cuts and scratches, to broken bones, to whiplash, traumatic brain injuries, and slipped discs. While Pennsylvania law generally holds that you must suffer harm that will take some time to heal in order to have a case to bring for liability, the specific facts of your situation should be assessed by an attorney before going ahead.
Is There Tort Immunity?
Despite misconceptions to the contrary, it is important to keep in mind that if the facts of the situation merit it, the bus company may be held liable for your injuries, regardless of whether the bus is privately or publicly owned. There is a persistent belief that governmental entities cannot be sued, and sometimes, this is the case, but municipal transportation companies almost never qualify for this immunity, because of specific state law, exceptions to sovereign immunity.
Most states, if not all, have provision for a common-law doctrine called sovereign immunity in their law. Sovereign immunity essentially means that the government cannot be sued for its negligence, and it dates back to English law. However, Pennsylvania's Sovereign Immunity Act, as well as many other states', waives this immunity in certain specific situations. One of those situations is in the event of a road accident – if someone is injured by an employee of a governmental organization who was on the clock at the time, he may be able to sue the governmental entity for their injuries.
Seek Out A Bus Accident Attorney Today
If you have been injured in a bus accident, whether with a public or private vehicle, all you likely want to do is focus on recovery and getting life back to normal. However, if you want to hold the bus company or the driver liable for your injuries, you likely need a dedicated Scranton bus accident attorney. The Needle Law Firm serves Scranton, Stroudsburg, and most of northeastern Pennsylvania, and we are happy to try and help you. Call our office today to schedule an appointment.
Resource:
fmcsa.dot.gov/safety/data-and-statistics/large-truck-and-bus-crash-facts-2016