Pennsylvania Train Accident Injuries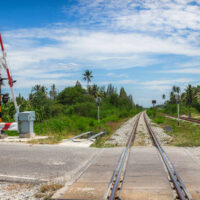 When most people consider transportation accidents, they think of crashes that involve cars and trucks, and possibly motorcycles. In reality, any method of transportation can have an accident, and though they are not often discussed, train crashes can be some of the most serious. They occur more often than most people anticipate, and they can lead to serious, even life-changing injury. If you are injured in a train or subway accident, you need an attorney on your side who understands how serious these accidents are.
Fewer Injuries, More Fatalities
Statistics from the Federal Railroad Administration's (FRA) Office of Safety Analysis show that there were 1,864 train accidents in 2018, which is a slight increase from 2017. There were few fatal accidents in either year, but the number of fatalities rose in 2018, while the number of total nonfatal conditions dropped very steeply, from 313 to 199. Most of these occurred during derailments, as opposed to in other types of accidents.
It is worth noting that the FRA estimates that highway-rail accidents (that is, accidents where a train comes into contact with a vehicle or pedestrian at a crossing site) account for 95 percent of all fatalities. This is worth noting, because human factors play a major role in train accidents, on both sides. Pedestrians or auto drivers may try to 'beat the train,' or train operators may not see a car stalled on tracks; either way, there is ample opportunity for negligence.
Seeking Compensation
There are a few unusual wrinkles in a train accident case, most importantly that railroads which carry passengers and goods both are considered common carriers. Common carriers owe the highest degree of care to their passengers, though they are not an absolute insurer for anyone's safety. Still, this means that a common carrier owes an even higher duty to exercise reasonable care than a normal person or entity would. If an injured plaintiff can show that the defendant common carrier (the railroad or subway company, such as Amtrak or SEPTA) breached that high duty of care, they may be able to obtain compensation for their injuries.
In order to prevail in a train accident claim, you must be able to show that duty of care was breached, and that the breach of duty was the direct cause of the harm you suffered. Sometimes this can be difficult when you have been injured in a train accident, as there are accidents where no one is strictly to blame – accidents that are just a confluence of unfortunate factors. Still, if you are able to demonstrate the link between the defendant's actions (or lack thereof) and the harm you suffered, you may have a good chance at recovery.
Contact A Scranton Train Accident Attorney
While train accidents are less frequent than, say, automobile accidents, it is important to be aware of your options if you are unfortunate enough to experience a train crash. A knowledgeable Scranton train accident lawyer can help you determine your path forward if you have been harmed. Contact the Needle Law Firm today for a free consultation; we serve Scranton, Stroudsburg, Wilkes-Barre, and most of northeastern Pennsylvania.
Resources:
casemine.com/judgement/us/5914a20badd7b04934692391
safetydata.fra.dot.gov/OfficeofSafety/publicsite/Query/AccidentByRegionStateCounty.aspx