COVID-19: Pennsylvania Grants Civil Immunity to Healthcare Providers and Nursing Homes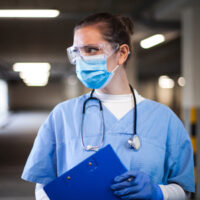 Pennsylvania Governor Tom Wolf has provided legal protection to medical professionals and healthcare practitioners against liability for good faith actions during the coronavirus pandemic. The governor signed an executive order providing civil immunity to professionals in hospitals and nursing homes in Pennsylvania.
The executive order is intended to supplement Pennsylvania's disaster declaration, which suspended some regulatory statutes in an attempt to aid local hospitals in the battle against the COVID-19 pandemic. In particular, the state's disaster declaration expanded certain healthcare practices, relaxed supervision requirements for many health care licensees, and allowed retired healthcare practitioners to temporarily reactivate their licenses.
Who's Immune from Liability After Wolf's Executive Order?
After signing the order, Wolf said in a statement that the pandemic "required our health care providers to broaden their professional responsibilities and experiences like never before." The governor explained that the executive order was designed to protect professionals serving on the front lines of the coronavirus crisis.
According to the governor's website, the new executive order intended to help fight the pandemic by granting immunity to:
Individuals who are licensed or certified to practice medicine in Pennsylvania and provided coronavirus-related treatment. However, the immunity excludes practitioners' acts or omissions that are considered gross negligence, fraud, crime, or reckless.

Professionals working in hospitals, healthcare facilities, nursing homes, assisted living facilities, personal care homes, and other facilities and sites that were used during the COVID-19 pandemic to provide emergency and disaster services related to the coronavirus disease.

Individuals, organizations, and authorities that provided their premises for COVID-19 emergency services without compensation in the event of loss or damage to the property or in the event of injury or death to any person who is on the premises for the purpose of providing or seeking emergency services.
Also, the order suspended regulatory barriers that prevent out-of-state, retired, and other qualified healthcare practitioners from providing services during the coronavirus pandemic.
COVID-19: Medical Malpractice and Nursing Home Neglect in Pennsylvania
Basically, Wolf's order would protect individuals and healthcare providers from potential coronavirus-related medical malpractice lawsuits and would prevent Pennsylvanians from suing facilities for nursing home neglect related to COVID-19.
The order comes amid news that Pennsylvania's nursing homes account for nearly 70% of the state's total COVID-19 deaths. However, CBS Pittsburgh reports that long-term care facilities may account for 80% of coronavirus-related fatalities. Out of over 3,000 COVID-19 deaths across Pennsylvania, more than 2,000 occurred in nursing homes and long-term care facilities.
Wolf's order comes three weeks after a Scranton hospital made national headlines. In mid-April, a disturbing report revealed that Scranton Hospital's carelessness could have exposed patients to COVID-19. Nurses recalled being ordered to go back and forth between a floor with coronavirus patients and floors with patients potentially vulnerable to COVID-19 without adequate personal protective equipment (PPE).
The executive order would prevent coronavirus patients and their families from suing hospitals for such "carelessness" unless the court deems the facility's actions or omissions "gross negligence or recklessness." Note: The immunity provided by Wolf's order does not extend to acts or omissions that constitute gross negligence or recklessness.
Contact our Scranton personal injury attorneys at Needle Law Firm to determine whether you are still able to pursue a medical malpractice lawsuit against a negligent healthcare provider or hospital or sue a nursing home for neglect. Call at 570-344-1266 to schedule a free consultation.
Resource:
governor.pa.gov/newsroom/gov-wolf-signs-executive-order-to-provide-civil-immunity-for-health-care-providers/
pittsburgh.cbslocal.com/2020/05/05/pennsylvania-nursing-homes-coronavirus/
https://www.needlelawfirm.com/nurses-detail-a-scranton-hospitals-carelessness-that-exposed-patients-to-covid-19/