Coronavirus (COVID-19): It's Time to Update Your Estate Plan (or Create One)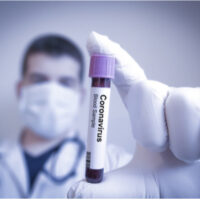 The coronavirus pandemic has forced everyone to think about what would happen to them if they contracted COVID-19. Is your health strong enough to show no coronavirus symptoms even if you become infected? Or do you have any underlying health conditions that put you at greater risk of complications from COVID-19?
Either way, during these uncertain times, it could be the right time to plan for the worst outcome. While no one wants to think about the inevitable, the coronavirus pandemic has reminded us about our mortality. This is evident from the skyrocketing demand for wills during the pandemic.
COVID-19 and Estate Planning: 5 Tips to Know
Currently, more than a third of Americans (37%) have a will, but the percentage could grow due to the ongoing pandemic. If you already have an estate plan, the pandemic may be a reminder to update your estate planning documents. If you don't have one, then it may be a good time to create it.
When reviewing your estate plan during the COVID-19 pandemic, consider the following five things.
Locating and Reviewing Your Existing Documents
Many people have a hard time finding their estate planning documents, especially if it's been years since the plan was drafted. Make sure that you have the original estate plan, which should be stored in a secure place. If you cannot locate your estate plan, contact your estate planning attorney.
Review your documents to confirm that all of its elements and provisions still reflect your wishes. If you wish to change something, talk to your attorney to update the documents.
Updating Your Estate Plan
You must update your estate plan if any major changes have occurred in your family since the time the documents were signed. These changes might include deaths, marriages, childbirths, divorces, and other major events. Also, if the choice of the person you previously chose as your beneficiary or executor does not seem appropriate anymore, you can update this information and select new ones.
Following Up with Your Medical Provider
If you worry about contracting COVID-19, contact your healthcare provider to confirm that he/she has a copy of your patient advocate designation. The patient advocate is the person you choose to make critical decisions for your care and medical treatment when you cannot do so on your own.
Also, your medical provider must have a list of family members or friends who you wish to obtain access to your confidential medical records.
Creating a Durable Power of Attorney
A Durable Power of Attorney is an estate planning document that allows you to choose someone who would act on your behalf regarding financial matters. Your agent would make decisions if you become incapacitated or are otherwise unable to make decisions on your own.
Updating Your Healthcare Surrogate
This element is critical during the COVID-19 pandemic. Having a healthcare surrogate to make health-related decisions on your behalf in the event you become infected with coronavirus and can no longer make decisions on your own is vital to bring more peace of mind in your life during these times of uncertainty.
Contact a Scranton estate planning attorney at Needle Law Firm regardless of whether you want to update your plan or create one. Call at 570-344-1266 to review your case.
Resource:
cnbc.com/2020/04/03/demand-for-wills-surges-as-coronavirus-boosts-financial-planning.html
caring.com/caregivers/estate-planning/wills-survey
https://www.needlelawfirm.com/does-pennsylvania-law-impose-caps-on-medical-malpractice-damages/