Does Pennsylvania Law Impose Caps on Medical Malpractice Damages?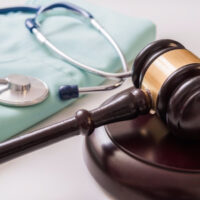 Medical mistakes are more common than most of us realize. Studies indicate that medical malpractice deaths in the U.S. range from 120,000 to 250,000 per year. If the latter figure is correct, it means that doctors' negligence is the third leading cause of death in the nation (after cancer and cardiovascular disease).
In addition to pain, suffering, and physical harm, patients end up suffering tremendous financial setbacks. But does Pennsylvania impose any caps or limits on medical malpractice damages?
Types of Medical Malpractice
There can be various forms of medical malpractice, but each of them has the potential to cause bodily injury or death to patients. Examples of doctor's negligence include:
Surgical errors
Misdiagnosis or delayed diagnosis
Medication errors
Hospital mistakes
Birth injuries
Medical Malpractice Damages Cap in Pennsylvania
Most other states impose a "cap" on the amount of damages (compensation) a patient or surviving family members can receive in a medical malpractice case. Thus, even if a plaintiff proves the hospital or medical professional's negligence, there is a limit on the damages the jury will award regardless of how severe the plaintiff's losses are.
But is Pennsylvania one of those states? No. Currently, there is no cap on economic or non-economic medical malpractice damages in Pennsylvania. Even compensation for things like pain and suffering is not limited by the state's law.
Damages Available in a Pennsylvania Medical Malpractice Case
Many types of damages can be available in a medical malpractice case, including economic and non-economic losses suffered by the patient. The primary goal of compensatory damages is to compensate the injured patient for the harm they suffered due to the hospital or doctor's negligence.
The following compensatory damages may be available in your medical malpractice case:
Medical expenses
Cost of past and future medical care
Lost wages
Diminished earning capacity
Mental anguish
Emotional distress
Pain and suffering
As mentioned earlier, Pennsylvania imposes no cap on compensatory damages in medical malpractice claims. Plaintiffs who file malpractice claims are allowed to fully recover any damages and losses they have incurred as a result of a healthcare provider's negligence. Other states, meanwhile, place limits on medical malpractice damages in an effort to discourage plaintiffs from suing medical professionals.
The absence of statutory limits on damages in Pennsylvania makes it the third state with the highest average amount paid on all medical malpractice claims.
Our Scranton Medical Malpractice Attorney Can Help
Pennsylvania law requires doctors and medical professionals to provide patients with the highest level of care. A healthcare provider can be held liable for your damages if he or she negligently fails to provide a high standard of care, which results in injury or wrongful death.
Here at Needle Law Firm, our Scranton personal injury attorneys are committed to fighting for the maximum compensation in your particular case. Let our lawyers estimate all available damages in your malpractice case. Call at 570-344-1266 to get a consultation.
Resource:
centerjd.org/cjrg/Numbers.pdf
hub.jhu.edu/2016/05/03/medical-errors-third-leading-cause-of-death/
https://www.needlelawfirm.com/should-i-sue-for-wrongful-death/