Your Legal Rights After a Pharmaceutical Error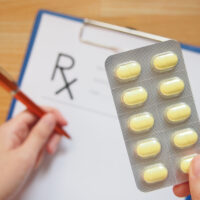 Almost 7,000 different types of prescription medications are available for purchase and distribution in the United States. According to the National Coordinating Council for Medication Error Reporting and Prevention, a pharmaceutical error is any preventable event that involves inappropriate medication use or patient harm while the medication is in the control of a healthcare professional, patient or consumer. Pharmaceutical errors are responsible for hundreds of thousands of injuries and fatalities each year.
Types of Pharmaceutical Errors
A pharmaceutical error is typically considered medical malpractice negligence. This medical malpractice exists when a medical professional, such as a pharmacist, doctor or other health care professional, should have acted with a degree of care required by a skilled and competent health care provider. A victim of a pharmaceutical error has a right to seek legal compensation for damages and injuries suffered. The most common types of pharmaceutical errors include:
Distribution of incorrect medication
One patient receiving another patient's medication
Distribution of the wrong medication
Distribution of medication in a mislabeled bottle
Distribution and packaging of the wrong dosage of a medication
Confusing and distributing medications incorrectly that have similar names
Distributing a medication to a patient that will negatively interact with other medication that he/she is taking
Failure to check, confirm or discuss a patient's medical history and possible allergies
Incorrect or inaccurate oral or written communication regarding the medication
Lack of official protocol with respect to medication administration and distribution
These errors are easily preventable, and yet can cause serious injury or death, making pharmaceutical errors one of the costliest mistakes, both physically and financially, that exist in the United States.
Failure to Discuss Medication Risks
Pharmaceutical errors can easily be resolved at the pharmacy by a pharmacist. Significant injuries result from the failure to discuss medication risks with a patient. Each time a patient obtains a prescription from a pharmacy, they should be given an option to visit directly with a pharmacist to learn of any potentially dangerous side effects, possible medication interactions or allergic reactions.
Patients should be informed by a health care professional of all risks associated with the medication. This conversation should include the following:
Ensure the correct medication has been distributed to the correct patient in the correct dosage
Reassured that there are no medication interactions or allergies that would cause an adverse effect
Discuss the patient history to discuss and/or confirm any unknown or missed allergy interactions or errors.
The failure to have these conversations with a patient regarding medication risks and benefits can be a life-altering decision for both the patient and the medical professional.
Let Us Help You Today
You have the right to receive correct medication without errors or mistakes that can cause life-threatening injuries or death. If you received the wrong medication immediately seek medical care. If you were a victim of a pharmaceutical error, contact one of our experienced Scranton personal injury attorneys today at the Needle Law Firm at 570-344-1266 or visit us online to schedule a consultation on your case.
Resource:
ncbi.nlm.nih.gov/books/NBK519065/
nccmerp.org/about-medication-errors
https://www.needlelawfirm.com/pennsylvania-superior-court-issues-a-ruling-declaring-evidence-of-known-risks-of-a-surgical-procedure-to-be-irrelevant-in-a-medical-negligence-case/