Injuries Sustained in Truck Accident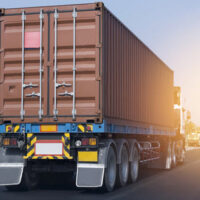 An accident that involves a semi-truck or commercial truck is 10 times more likely to result in a death than car accidents between two passenger vehicles. A truck driver's objective is to make a profit for their company. Unfortunately, many semi-truck drivers choose to ignore safety guidelines and laws established to protect themselves and other motorists determined by the Federal Motor Carrier Safety Administration (FMCSA).
The most likely and common types of trucking accident injuries are listed below. If you have been injured in an accident with a semi-truck or commercial truck, contacting an experienced car accident lawyer can help you understand your rights and receive the compensation you are owed.
Head and Brain Injuries
Large commercial trucks and semi-trucks cause large amounts of damage upon impact with another vehicle. Unfortunately, traumatic brain injuries (TBI) are some of the most common injuries suffered in trucking accidents. Traumatic brain injuries can cause mild to serious concussions. Brain injuries leave victims with the inability to think clearly, confusion, disorientation, nausea, personality changes, motor skill issues, balance issues, and more for months or years.
Spinal Cord Injuries
Spinal cord injuries are typically always serious and can result in either partial or complete paralysis. Spinal cord injuries can cause someone to become a paraplegic, quadriplegic or tetraplegic. These injuries often are permanent and in almost every case life-altering requiring life-long physical and medical therapy.
Neck/Back Strains and Sprains
Whiplash is a serious and often severe injury in almost any type of vehicle accident. In many cases, this injury remains unnoticed and undiscovered until hours, or even days, after an accident. Soft tissues, muscles, tendons, and bones can all be damaged. Whiplash can cause excruciating pain and take months of therapy to resolve.
Burns
Burn victims face excruciating pain for months and years. Burns are common in accidents with large semi-trucks and commercial vehicles. Larger fuel tanks rupture more often causing vehicle fires that increase the chances a victim will be burned in these accidents. Depending on the severity, burn victims can face months, years, or a lifetime of physical therapy and medical attention.
Internal Injuries
Minor scrapes and bruises can be a warning that more serious internal injuries have occurred in an accident with a semi-truck or commercial vehicle. A doctor, nurse, or medical professional should give a medical evaluation following any accident. There may be injuries that are undetectable to the layperson, or to the naked eye.
Wrongful Death
Unfortunately, statistics show that not every victim survives a semi-truck accident. If the accident with a semi-truck or commercial vehicle involves a fatal injury, this is called a "wrongful death." The loved ones of the victim have a right to compensation for the loss of their family member.
Let Us Help You Today
If you, or a loved one, was a victim of a semi-truck or commercial vehicle accident, contacting an experienced accident lawyer can help you understand your rights. Contact the Scranton truck accident attorneys at the Needle Law Firm as soon as possible, and our lawyers will help you build your personal injury case. Call for a free consultation today at 570-344-1266 or visit us online.
Resource:
fmcsa.dot.gov/safety/data-and-statistics/large-truck-and-bus-crash-facts-2015
https://www.needlelawfirm.com/rear-end-collisions-in-pennsylvania-who-is-at-fault/