Hiring an Insurance Bad Faith Lawyer in Northeastern Pennsylvania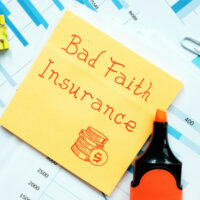 Insurance companies are held to specific standards when it comes to handling insurance claims. They have duties and responsibilities that they must fulfill when dealing with their insured clients. When an insurance company acts unfairly or doesn't live up to its obligations, they may be acting in bad faith and can be held accountable. If you suspect your insurance company is acting in bad faith, contact our Northeastern Pennsylvania insurance bad faith lawyers to find out how we can help.
At Needle Law Firm, we have handled numerous bad faith cases for clients throughout Northeastern Pennsylvania. We understand when an insurance company has crossed the line, and we have a proven record of success in recovering compensation for our clients.
Pennsylvania Bad Faith Law
In Pennsylvania, bad faith claims are covered under 42 Pa. C.S. Section 8371 and by the case law that interprets that statute. For example, the law says that an insurer's duty of good faith is contractual in nature. The obligation arises because an insurer has assumed a fiduciary status by way of your policy provisions that give them the right to handle claims and control the settlement on your behalf.
An insurer is acting in bad faith under state law if:
They fail to investigate the facts of a claim;
They give a frivolous or unfounded refusal to pay; or
They fail to communicate with you, the insured.
Under Pennsylvania law, the plaintiff has to satisfy a two-prong test. First, the insurer did not have a reasonable basis for denying coverage. Second, the insurer knew or recklessly disregarded its lack of a reasonable basis when denying coverage.
Bad faith can take many forms. It can be the refusal to pay a valid claim, denying a defense to the insured, or the insurance company's misconduct during litigation.
Examples of Insurance Bad Faith in Pennsylvania
To better understand what insurance bad faith is, here's a look at several examples:
Not investigating the claim: Insurers have an obligation to investigate your claim. If they deny your claim without doing an investigation, they could be engaging in bad faith.
Canceling your insurance: Insurers are not allowed to cancel your policy or change the terms without prior notification. If the insurer tries to change the policy so the claim is not covered under the new one, it could be considered bad faith.
Unfair settlement: The insurer should not pressure you into accepting an unfair settlement.
No communication: Insurers must communicate regularly with their insureds. If they fail to communicate in a timely fashion, they could be acting in bad faith.
Damages for Bad Faith Claims
If the court finds that an insurer has acted in bad faith you could be eligible to recover damages. You could be entitled to recover interest on your claim amount from the date it was made. Depending on the circumstances, you could also be eligible for punitive damages, legal costs, and attorney fees.
Contact a Northeastern Pennsylvania Insurance Bad Faith Attorney
To learn more about insurance bad faith claims in Pennsylvania, contact the Scranton insurance bad faith lawyers at Needle Law Firm today to schedule an initial consultation. Let us determine if you have a valid insurance bad faith claim and help you fight for the compensation you deserve.
https://www.needlelawfirm.com/proving-negligence-in-your-northeastern-pennsylvania-personal-injury-claim/