Pennsylvania Man Crashes Into Gas Pump, Causing An Explosion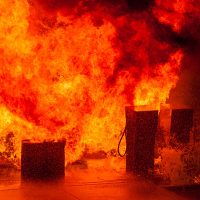 If there's one place you should probably avoid crashing into, it's a gas pump. It doesn't take a genius to realize these places are filled with flammable gas, and even the slightest spark or mishap can lead to deadly consequences. Crashing into a gas pump can be much more serious than a typical collision, since there is also the risk of a massive explosion. These explosions can cause a range of injuries, including serious burns.
If you have been involved in a car accident involving fire or explosions, you should get in touch with a qualified, experienced personal injury lawyer as soon as possible. These legal professionals can help you get the compensation you need to cover your damages. Medical expenses, missed wages, and other out-of-pocket expenses can really start to pile up after a serious car crash, especially if you're distracted by your injuries. An attorney can help you move forward in an efficient, confident manner.
Negligent Driver Smashes into Mount Pocono Gas Pump, Causing Explosion 
On May 27th, it was reported that a driver in Mount Pocono had been involved in a fiery collision involving a gas pump. This driver reportedly veered off the road while traveling on State Route 940, eventually drifting into oncoming traffic before smashing straight into a gas station. As fate would have it, he impacted one of the gas pumps. This led to a fiery explosion.
Fortunately, staff at the gas pump raced to switch off the fuel line, and the driver was pulled from his vehicle. The driver was unconscious when removed from his vehicle, and he was quickly taken to the hospital. Unfortunately, his truck could not be saved, and authorities later revealed that it had been "fully consumed" by the flames.
Can You File a Claim for a Single-Vehicle Crash? 
This particular situation is slightly different from an average car crash, since there was only one vehicle that was involved. However, Pennsylvania is a no-fault state, which means that drivers can recover compensation for things like medical bills regardless of who was to blame. This means that this man can file an injury claim and receive a settlement through his insurance company, even if he actually caused the crash through his own negligence. However, Pennsylvania also gives drivers the choice to "opt out" of no-fault insurance, which could change the circumstances of this crash.
But what about the gas station? They would need to recover compensation for the damage caused by the driver as well. In this case, they would file a claim with their own insurance company, and the settlement would likely be enough to cover the repairs to the gas pump. If this money was insufficient, they could theoretically file a lawsuit against the driver directly.
Enlist the Help of a Qualified Attorney Today
 If you need help with your case, contact the Scranton personal injury attorneys at the Needle Law Firm. Thanks to a wealth of experience with a wide range of car accident personal injury lawsuits, we have the skills and resources to help you with this situation. If you have suffered serious burns, it's important to get the compensation you need to deal with this potentially life-altering medical issue. Reach out today, book your consultation, and take legal action in an efficient manner.
Source:
foxnews.com/us/man-hospitalized-crash-pennsylvania-gas-pump