Slips And Falls On Icy Pennsylvania Sidewalks: Worst-Case Scenarios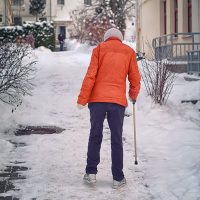 We all know that slipping and falling on an icy sidewalk in Pennsylvania is never a good thing. These kinds of accidents can lead to serious injuries, and these injuries can put you out of work for weeks. Even worse, a slip and fall on an icy sidewalk can result in significant medical bills. When you're missing work, these bills can be hard to pay. But in truth, these injuries can lead to much more than financial inconveniences. Some victims become permanently injured after slipping and falling, and they may require medical treatment for the rest of their lives. It's important to consider these worst-case scenarios.
If you're dealing with one of these tragic incidents, you need to get in touch with a qualified, experienced personal injury attorney in Pennsylvania as soon as possible. With help from one of these legal professionals, you can strive for the best possible outcome. While it may be possible to simply "walk it off" if you've suffered minor injuries after a slip and fall, you need to take legal action if your injuries are severe. This may be the only way in which you can recover the necessary compensation to cover your medical expenses.
What's the Worst that Can Happen? 
A slip and fall on an icy sidewalk can lead to a number of serious injuries. Perhaps the worst injuries occur when people slip backward, as this can result in severe traumatic head injuries. When falling backward, it becomes difficult to cushion the fall with your arms. As a result, the back of the head hits the pavement in full force. These head injuries can lead to serious cognitive issues, motor control problems, and a number of mental health concerns. Many people never fully recover from these head injuries, and they can become worse with time.
Hip fractures can also be extremely serious, especially among the older generations. These injuries can leave individuals bed-ridden for months or even years. In some cases, fractured hips can permanently limit mobility.
Wrongful Death Claims 
With all that said, the worst possible outcome of a slip and fall on an icy sidewalk is death. This is more common than you might think, especially among elderly individuals. Although the fall itself may not immediately kill the victim, the resulting injuries can easily lead to fatal complications. For example, a fractured hip can become infected, and this can lead to victims losing their lives despite the best efforts of medical treatment. Other fatal injuries arising from this type of accident may include fractured spines or serious head injuries.
Enlist the Help of a Qualified Attorney Today
For help from a skilled Scranton personal injury attorney, contact the Needle Law Firm. With our help, you can strive for a fair, adequate settlement for your injury after a slip and fall on an icy sidewalk. Make no mistake, these injuries can be life-altering, and you deserve the right to hold negligent parties accountable for creating this hazard. With access to the best medical treatment, you can do your best to heal from your injuries. Book your consultation today.
Source:
pubmed.ncbi.nlm.nih.gov/16221508/