When Your Child Is Injured In Pennsylvania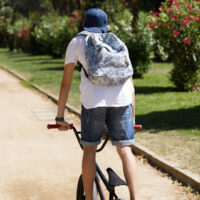 Every parent's worst nightmare is their child suffering a serious injury. However, what many people are not aware of is that if your child is injured because of someone else's negligence, it is up to you to bring suit against him on your child's behalf. It is a good idea to be aware of the options that are open to you and your child, and the time you have to execute them.
Statistics Show High Rates Of Injury/Fatality
Statistics from 2017 (the most recent available data) from the Centers for Disease Control (CDC) show that unintentional injuries were the leading cause of death for all age groups from 1-4 years all the way up to ages 35-44. Transportation-related injuries were among the most common, especially in younger children who might not be secured in car seats very well, though other causes such as poisoning or drowning showed up as well.
In places like Scranton or Stroudsburg, the dangerous rural accidents that may happen in less populated parts of the state are less common, but accidents can happen, especially on someone else's land or in someone else's business. Children may not have any idea that they are someplace they should not be, or even when they have leave to be on someone's property, they may not always take the appropriate steps to ensure they are avoiding any hazards.
Bringing Suit For Your Child
If your child has been injured, it is up to you to bring the appropriate lawsuit on your child's behalf, because Pennsylvania law does not allow minors to bring suits or enter into contracts (children are thought to lack the capacity to consent). As your child's representative, you have the right and duty to "supervise and control" the action to ensure that your child's rights are protected. If the injured plaintiff had no one to act on his behalf, his ability to seek compensation or find someone liable would be strictly limited.
Please keep in mind that while you have the right to bring a civil action on your child's behalf, any award granted does not come to you, but specifically to your child. Parents and guardians sometimes operate under the misapprehension that since they are their child's legal guardian, any monetary award is automatically theirs to manage, but the law states otherwise. While children may be too young to mount their own lawsuits, everyone (regardless of age) has the right to collect compensation they may be owed, and you can face civil or even criminal penalties if you misappropriate these funds.
Call A Scranton Child Injury Lawyer Today
Every parent wants to protect their children from harm, and if your child has been injured due to another person's negligence, it is understandable to want to explore your options. The Scranton child injury attorneys at the Needle Law Firm can sit down with you and try to work out how best to proceed with your case. Call us today for a free consultation; we serve Scranton, Wilkes-Barre, Stroudsburg, and most of northeastern Pennsylvania.
Resources:
pacode.com/secure/data/231/chapter2020/s2027.html
cdc.gov/injury/images/lc-charts/leading_causes_of_death_by_age_group_2017_1100w850h.jpg