Can Injured Skiers Sue a Pennsylvania Ski Resort for Injuries?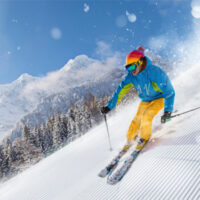 Pennsylvania is a popular destination among snowboarders and ski enthusiasts because the state is home to many skiing resorts. While visitors assume that these resorts are family-friendly and safe, there is always a risk of getting into a skiing accident when you least expect it.
Not all skiing and snowboarding resorts in Pennsylvania are equally safe. In fact, some owners and operators of these resorts can be negligent. Although skiing itself carries some risk of injury, that risk becomes more substantial if there are dangerous conditions at the resort.
In addition, skiing accidents involving faulty or defective ski equipment are not uncommon, not to mention that you may collide with negligent skiers who disobey safety rules.
Pennsylvania Skier Dies in a Skiing Accident
As reported by The Denver Post, a 53-year-old skier from Pennsylvania died at a skiing resort in Denver, Colorado. The man was found unresponsive at the bottom of Shadows Glades at Steamboat Resort.
Despite Steamboat ski patrol's efforts to administer advanced life support, the man did not survive. He was taken to UCHealth Yampa Valley Medical Center, where he died. Authorities expect the Routt County coroner to do an autopsy to determine what caused the skiing accident. The preliminary version is that the man suffered trauma in an accident on the mountain.
There can be a multitude of causes of skiing accidents, many of which are associated with negligence on the part of the owner or operator of the ski resort. When negligence is involved, injured skiers may have a valid premises liability claim against the resort.
Causes of Skiing Accidents in Pennsylvania
Let's review the common causes of skiing accidents in Pennsylvania:
Failing to make sure that all ski equipment provided to skiers are safe for use;
Negligently designing or maintaining the lift;
Failing to warn skiers of known and unreasonable risks at the resort;
Improperly maintaining slopes;
Failing to control avalanches adequately;
Failing to ensure a safe pathway for skiers at the resort;
Inadequate training of skiing instructors who are unable to provide proper safety instructions; and
Failing to remedy dangerous conditions at the resort.
If there is evidence that the owner or operator of the ski resort (or any other party) caused your skiing accident through their negligence or recklessness, you may be able to recover damages through a personal injury claim.
Liability in a Pennsylvania Skiing Accident
Unlike slip and fall incidents, skiing accidents are somewhat more complicated, mainly due to the fact that skiers voluntarily assume the risks associated with skiing and snowboarding. Under the Skier's Responsibility Act in 42 Pa. C.S. §7102, skiers cannot hold ski resorts liable for any injuries because they assume "inherent risks" in the sport of downhill skiing.
Although skiers generally cannot sue ski resorts in Pennsylvania if the injury occurred due to factors or events that are usually involved in skiing due to the dangerous nature of the sport, there are instances in which the ski resort may be held liable. If the skiing accident was caused by anything other than an "inherent risk" – such as a failure to provide safe equipment – the injured skier might be entitled to damages.
Contact our Scranton personal injury lawyer at Needle Law Firm to discuss liability in your case. Call at 570-344-1266 to review your situation.
Resource:
denverpost.com/2020/02/09/skier-death-steamboat/
https://www.needlelawfirm.com/why-you-should-hire-a-personal-injury-attorney/