Can You Sue For Premise Liability After Trespassing In Pennsylvania?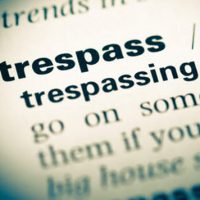 If you have been injured while trespassing, you may be wondering whether you can sue. Perhaps you are dealing with serious injuries that have left you unable to work and earn an income. At the same time, you might be struggling with considerable medical bills. In addition, your injuries might have left you with depression, anxiety, trauma, and other emotional or mental concerns. While suing a property owner is always more challenging if you were trespassing at the time of your injury, it is possible under certain circumstances.
If you'd like to determine whether you can sue for your injuries, your best bet is to book a consultation with a qualified, experienced personal injury attorney in Pennsylvania. These legal professionals can assess your unique situation and help you determine whether or not a lawsuit is possible. If you decide to move forward, your attorney can help you gather evidence while representing you in court and at the negotiation table. With help from an attorney, a considerable settlement might be within your grasp.
Why Trespassers are Often Barred From Suing 
Trespassers often find it difficult to sue property owners for a number of reasons. First of all, trespassing is illegal. Usually, you cannot sue if you were committing a crime at the time of your injury. Even if you wandered onto someone's property without actually realizing you were trespassing, you may still find it very difficult to sue.
To understand why property owners can't be held liable for injured trespassers, it's important to understand how negligence works in personal injury lawsuits. In order to hold someone liable for your injuries, you must show that they owed you a duty of care. Property owners owe members of the public a duty of care – but only if they can realistically prepare for how these individuals might use their property. You cannot expect a property owner to prepare for the possibility of a trespasser being injured, as this is something that is unpredictable. If a property owner isn't aware that someone is on their land, they can't keep them safe.
Exceptions 
With all that said, there are a few exceptions. If the property owner is aware that people are regularly trespassing, they have a legal responsibility to either stop the trespassers or make their land safe. If they simply shrug their shoulders and allow the trespassing to continue, they can be held liable. In addition, property owners are never allowed to set traps for trespassers, and they can face criminal charges or lawsuits for this behavior.
Enlist the Help of a Qualified Attorney Today 
For help recovering compensation for your injuries, reach out to the skilled Scranton personal injury lawyers at the Needle Law Firm. During your initial consultation, we'll listen carefully to your unique situation and recommend the best course of action. While filing a personal injury lawsuit can be challenging if trespassing is involved, it is by no means impossible. Reach out today, and we'll help you strive for the best possible legal outcome.