Family Files Wrongful Death Lawsuit Against Walmart For House Fire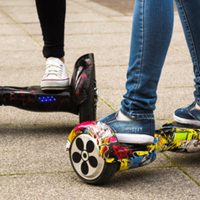 Walmart is one of the most popular stores in the United States, and many Pennsylvania residents spend hours – and plenty of cash – at this establishment on a regular basis. But Walmart has had its fair share of controversy over the years – from alleged employee rights violations to pushing local businesses out of rural communities. But what about personal injury lawsuits? Walmart is certainly no stranger to these situations, either. From slips and falls in the grocery aisles to product liability lawsuits, Walmart has been sued on numerous occasions by injured plaintiffs. One recent example involves a family from Pennsylvania who allege that Walmart contributed to a fatal fire in their home.
Parents Accuse Walmart of Selling Dangerous Hoverboard 
On September 23rd of 2022, it was reported that two Pennsylvania parents had sued Walmart for selling them a defective hoverboard. They allege that the hoverboard caused a house fire in their residence. This house fire ultimately took the lives of their two daughters. The parents are also suing the manufacturer of the hoverboard. Specifically, they allege that these defendants "knowingly, purposely and consciously concealed their knowledge of these serious dangers." 
According to these parents, the fire started when Abigail had left her new hoverboard in her bedroom to charge. When the fire began, the mother escaped from the first floor while the father tried unsuccessfully to push through the fire and reach his daughters. Firefighters eventually extracted the girls, but they died from their wounds at a nearby hospital.
According to the parents' attorney, there is strong evidence that the hoverboard was the cause of the fire. They have apparently spoken with several experts who have come to the conclusion that the hoverboard sparked the flame while charging. They claim to have inspected not only the scene of the blaze, but also the hoverboard itself.
Of course, Walmart and the manufacturer will undoubtedly bring their own experts to the table, and their goal will be to throw doubt upon any findings that might have come out of this investigation. The key point is the hoverboard's lithium-ion battery, as these types of batteries are known to be prone to explosions and fires.
Enlist the Help of a Qualified Attorney Today 
For help from a skilled Scranton personal injury lawyer, look no further than Needle Law Firm. Over the years, we have assisted a wide range of injured plaintiffs – including those who have suffered at the hands of major companies like Walmart. These companies have a responsibility to make consumers aware of any and all potential hazards associated with their products. If they fail to do this and their negligence leads to injuries, victims have every right to file lawsuits. Doing so can provide you with a financial settlement. This settlement can cover your medical expenses, missed wages, emotional distress, and any other damages you might have incurred. Book your consultation today to get started with an effective action plan.
Source:
centredaily.com/news/state/pennsylvania/article266126786.html