I Was Injured By A Falling Tree In Pennsylvania. Can I Sue?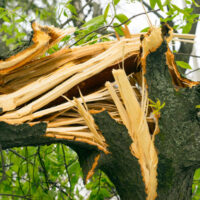 With so many tornadoes sweeping through the Keystone State in 2021, an injury from a falling tree is actually a legitimate possibility. Although this might sound like a freak accident, the truth is that falling trees are capable of causing serious damage, injuries, and death during storm season. For those who are recovering from their injuries, it might be difficult to determine what to do next. After all, you can't simply sue an insurance company or a negligent driver, as you would do in a car accident.
Your best option is to get in touch with a qualified, experienced personal injury attorney in Pennsylvania as soon as possible. The sooner you connect with a legal professional, the better your chances will be. Your attorney can explore the various options you might have for filing a lawsuit. If you are able to move forward, you can pursue a settlement. This settlement can help you pay for medical expenses, missed wages, and other damages.
Tree Injuries and Deaths are Common in Pennsylvania
Numerous people in Pennsylvania have suffered injuries due to falling trees and branches, and some have lost their lives. In June of 2021, it was reported that a woman and her husband had been struck by a falling tree branch in Upper St. Clair. The impact killed the woman and seriously injured her husband. In July of 2021, it was reported that a man had been crushed to death by a falling tree in a logging accident in Somerset. In August of 2021, it was reported that a driver had been killed by a falling tree in Washington, Pennsylvania. The tree fell directly onto his vehicle during a severe storm, and that was that. Severe storms have made falling trees even more common, and tornadoes have been moving through the Keystone State in recent weeks and months.
Can You Sue for a Tree Injury?
There are a number of entities you could potentially sue if you have been injured by a falling tree. The first thing you need to ask yourself is where the tree was located before it fell. If it was on someone else's property, you could potentially sue them for negligence. This is especially true if the tree looked as if it was leaning or about to fall in the days leading up to the accident. If a property owner becomes aware of a danger on their property, they have a legal duty to address the hazard before it harms other people. If they fail to do this, they may be held liable. Note that the property could be publicly owned. For example, you may be able to sue a state park for a falling tree that injured you.
Enlist the Help of a Qualified, Experienced Attorney Today
If you need help from a skilled Scranton personal injury attorney, contact the Needle Law Firm. We have considerable experience with a wide range of injury cases, including those that are less common than an average car accident claim. Injured victims always deserve a chance at compensation, even if their accident was slightly unpredictable in nature. Book your consultation today, and we can start developing an effective action plan together.
Source:
apnews.com/article/weather-tornadoes-b97397a9f7a3c3de8ddc1b009cb42311