Injured By a Bouncer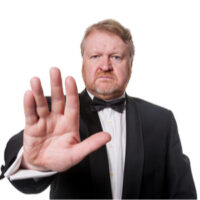 If you were at a bar or club and were injured by a bouncer, you may have the right to receive compensation for your injuries, medical bills, lost wages, and pain and suffering. If you did not behave violently or act inappropriately, you have the right to receive monetary recovery for your injuries. Understanding your rights can help you determine if you have a strong personal injury case, and who you may file a lawsuit against.
The Bouncer and the Bar Owner
A bouncer has no more legal right or authority to punish patrons or customers than any other person. While many people believe they have extra rights due to their job title, they really only have the same rights and authority as a normal citizen. If a bouncer harms a customer, they may be liable under simple assault or battery charges.
The bar owner may also be responsible for your injuries. If the bar owner negligently hired, negligently retained, or negligently supervised the bouncer, you may have the right to sue the bar owner directly. The bar owner has a duty to his patrons to ensure that they are safe within his establishment. If a bar owner breaches his duty through negligence, and you suffered direct injuries as a result of that negligence, you will be able to file a lawsuit. Some of the more common examples of a bar owner's negligence include the following:
Negligent hiring – All bouncers and employees should be given background checks and adequate vetting to ensure that their staff does not have an established history of violence. If a bar owner was negligent in following reasonable precautions to ensure the safety of their patrons, they can be held liable for the negligent hiring of the bouncer.

Negligent retention – If a bar owner knows that his bouncer has been violent or acted aggressively to patrons or customers in the past and retains that employee, he may be negligent in his decision to keep the bouncer as an employee.

Negligent supervision – If the bar owner fails to correct or prevent a bouncer from acting violently or aggressively, he can be held liable and responsible for any injuries that result from the bouncer's actions.
Additionally, you may have a right to sue under premises liability, as the bar owner did not make the property reasonably safe for its patrons and customers.
Bouncer's Rights and Zone Of Authority
If someone uses violence against a bouncer, he has a right to protect themselves. However, he is never allowed to restrain a person in a chokehold or use weapons of any kind. He can not physically assault a customer. A bouncer's "zone of authority" stops at the front door of the bar, club, or business establishment. A bouncer may not engage with any customer past the front door of the business, even onto the sidewalk in front of the business. A bouncer may ask a patron to leave, issue a verbal warning, check identification, refuse entry to a person who is intoxicated or violent, protect innocent bystanders from violence, break up fights, and detain someone who is committing a crime as they wait for the police to arrive.
Reach Out to Us Today for Help
If you were injured as a bystander or innocent party due to a bouncer's actions, you may have the right to receive compensation. For a complimentary consultation of your case, and to determine whether you may have a claim against the bar owner, the bouncer, or both parties, contact an experienced Scranton personal injury attorney at the Needle Law Firm at 570-344-1266 or online today for your free consultation.
Resource:
legis.state.pa.us/WU01/LI/LI/CT/HTM/18/00.027..HTM
https://www.needlelawfirm.com/should-i-sue-for-wrongful-death/