Liability for Injuries in a Deer-Vehicle Collision in Pennsylvania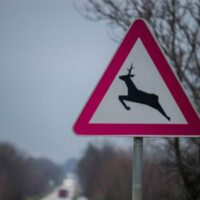 Pennsylvania has the third-highest number of deer-vehicle collisions in the United States. Hitting a deer or swerving to avoid a collision with wildlife on the road can be dangerous.
The majority of deer-vehicle accidents involve property damage, but many crashes can also result in personal injury, especially if the driver is swerving to avoid the animal. A recent deer-vehicle collision in Pennsylvania illustrates the dangers of crashes involving wildlife.
Deer-Vehicle Accidents in Pennsylvania
As reported by the Lehigh Valley Live, a man died from critical injuries after a motorcycle accident involving a deer. A 40-year-old motorcyclist of Lehigh County collided with a deer on June 26. The motorcycle crash occurred on Lentz Road in Lynn Township. The man, who was not wearing a helmet at the time of the deer-motorcycle accident, died from severe injuries.
The majority of injuries are caused by a driver's attempt to avoid a deer. A driver swerving to avoid colliding with a deer is the leading cause of injuries, as motorists are likely to crash into another vehicle, a tree, or any other fixed or moving object.
A driver swerving to avoid a deer or a passenger riding in a vehicle that collided with a deer or another car or object in a wildlife-related crash can sustain serious injuries. Since you cannot hold the deer liable for your injury, recovering damages in a deer-vehicle related crash can be tricky.
Who's Responsible for a Deer-Related Crash?
Regardless of whether a car accident involved deer or another vehicle or road hazard, drivers have a duty to exercise reasonable care when operating a motor vehicle. In fact, your chances of hitting a deer on the road increases during the mating season, from October through December.
Furthermore, a motorist is required to exercise due care when operating a vehicle on rural roads in Pennsylvania, especially if the road has a deer crossing sign. Also, a driver's negligence can cause or contribute to a deer-vehicle collision in Pennsylvania. The following behaviors are deemed negligent:
Speeding
Distracted driving
Failure to slow down when seeing deer
Not paying attention to deer crossing signs
Drunk driving
Tips to Avoid Hitting a Deer in Pennsylvania
There are things you can do to avoid a deer-vehicle collision:
Try your best to avoid a collision by slowing down rather than swerving.

If you spotted one deer crossing the road or standing by the road, stay vigilant because there could be more of them. Deer tend to travel in herds, especially during the mating season.

If a deer is staring at your vehicle and won't move, do not expect it to run away. Deer can be blinded by an automobile's headlights, which is why it takes some time for their eyes to adjust before they can continue to walk and finish crossing the road.

Be more vigilant at dusk and dawn, when you are more likely to encounter a deer on the roads in Pennsylvania.

Slow down and drive carefully on roadways with a deer crossing sign.
If you were unable to avoid a deer-vehicle accident, do not hesitate to contact an experienced Scranton personal injury attorney to discuss how you can seek compensation in your particular case. Contact Needle Law Firm to discuss your options. Call at 570-344-1266.
Resource:
iii.org/fact-statistic/facts-statistics-deer-vehicle-collisions
lehighvalleylive.com/lehigh-county/2020/07/motorcycle-driver-who-crashed-into-deer-dies-from-his-injuries-coroner-says.html