Who's Liable for Damages in House Fire Accidents in Pennsylvania?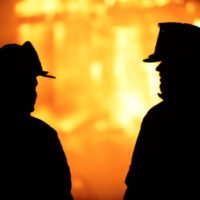 Many Americans mistakenly believe that their likelihood of being a victim of a house fire accident is very low. But did you know that house and apartment fires kill more people than all natural disasters combined?
Regardless of how the house fire accident occurred, the consequences can be catastrophic. Not only do house and apartment fire accidents injure and kill thousands of Americans every year, but they also cause people to be displaced with no roof above their heads.
But who should be held accountable for house or apartment fire accidents? Who's liable for the resulting damages and losses?
House Fire Accidents in Scranton, Pennsylvania
Scranton, Pennsylvania, is no stranger to house fires, as evident from recent reports.
One house fire occurred on May 16 in Scranton's north end. According to WNEP, one woman died while two dozen other people were displaced. Even though the façade was not damaged, the building is now condemned.
The house fire started before 6:30 a.m. on Saturday and caught many residents off guard. Firefighters had to set off audible alarms to wake up unsuspecting residents and tenants who were sleeping. While the investigation is still underway, it is known that the fire broke out on the first floor.
Less than a month before the May 16 house fire accident, another fire occurred in Scranton. As reported by WBRE, nine people were displaced while a firefighter was hospitalized as a result of the incident on Academy Street in west Scranton.
Causes of House Fire Accidents Vary Greatly
Although arson can generate tons of media coverage, most fire accidents are set unintentionally and occur due to carelessness or negligence. Causes of fire accidents include but are not limited to:
An oven left unattended
Improper disposal of a cigarette that is still lit
Falling asleep with a cigarette that is still lit
A candle falls over and a flammable object or material catches fires
A child playing with a lighter or matches
Old electrical wiring
Improper installation of electrical wiring
Kitchen- and cooking-related fire
Lightning strikes a home
Natural gas, propane, or acetylene explosions
Defective appliances
Who's Accountable for the House Fire Accident?
When it comes to establishing fault in a house fire accident, a lawyer must determine what caused the fire and collect any evidence that may prove any individual or entity's liability. It is critical to start gathering evidence as soon as possible as some valuable proofs could be tampered with, destroyed, or lost.
Your attorney will investigate the following factors when it comes to establishing who should be held accountable for the house fire accident:
Whether anything could have been done to prevent the fire;
Whether the building had a functioning and adequate alarm systems and smoke detectors;
Whether any defective or faulty products or equipment caused the fire;
Whether the building was properly constructed and designed to prevent the spread of fire; and
Whether there were emergency exits for those trapped inside the building.
Speak with a Scranton personal injury attorney to investigate the above-mentioned and many other factors to determine fault in your house fire accident. Contact Needle Law Firm by calling at 570-344-1266.
Resource:
flsamerica.com/blog/twenty-surprising-fire-and-life-safety-statistics/
wnep.com/article/news/local/lackawanna-county/one-dead-fatal-fire-scranton/523-aed442ef-cbc1-4710-94f0-b8f8d74fefbf
pahomepage.com/news/scranton-fire-displaces-9-people-injures-firefighter/
https://www.needlelawfirm.com/why-you-should-hire-a-personal-injury-attorney/