Pennsylvania Woman Sues After Being Impaled By Beach Umbrella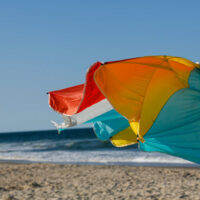 In a stunning example of negligence, a Pennsylvania woman was impaled by a beach umbrella while trying to enjoy some time in the sun. She is now suing in an effort to recover compensation for her injuries. Fortunately, she survived the incident, even though the umbrella was left embedded in her chest at one point. As you might expect, her injuries could impact her ability to live a normal life well into the future.
The ability to file personal injury lawsuits is an important right enjoyed by Pennsylvania residents who have suffered injuries due to the negligence of another party. This is a cornerstone of our legal system in the Keystone State, and it has two important functions. First of all, it ensures that negligent individuals are held accountable for their reckless behavior, deterring them from hurting more people in the future. Secondly, these personal injury lawsuits allow injured victims to receive the compensation they need to deal with the consequences of their injuries. Working with a qualified, experienced personal injury attorney is absolutely essential if you want to pursue your injury claim in an efficient manner.
Woman Sues Ocean City and Umbrella Business for Grievous Injuries
In June of 2021, it was reported that a woman had sued both the town of Ocean City and an umbrella business after she was struck and impaled by an umbrella that had been caught by a gust of wind. While some may view this as nothing more than a freak accident, the injured woman argues that there is more to the story. She believes that both the town and the umbrella business were negligent, as the umbrellas were not properly secured despite the clear danger posed to beachgoers.
The umbrella impaled the woman in the chest, and first-responders quickly arrived on the scene. The first step was to cut off the end of the umbrella, leaving only the tip embedded in her chest. Next, the woman was transported to a nearby hospital via helicopter, where she underwent surgery. Fortunately, the woman survived the incident and the tip of the umbrella was removed from her chest successfully. It clearly did not impact any vital organs – otherwise, she probably wouldn't have survived.
However, the woman did not make a complete recovery. She continues to complain of back pain, pelvic pain, and numbness throughout her body. She also claims that she is now dealing with mental health issues due to the incident. This is all going to form the basis of her personal injury claim, which is already underway.
Enlist the Help of a Qualified Attorney Today
If you need help from a skilled  Northeastern Pennsylvania personal injury attorney, contact the Needle Law Firm. We have considerable experience with a wide range of personal injury cases, and we understand how important it is to hold negligent individuals accountable. Stories like this umbrella incident highlight the fact that anyone can be injured by negligent parties, even when they least expect it. If you believe that your injuries were caused by someone else's negligence, reach out and book your consultation today. We'll fight for your rights in an effective manner.
Source:
pittsburgh.cbslocal.com/2021/06/06/pa-woman-impaled-by-beach-umbrella-files-negligence-lawsuit/