Pennsylvania Wrongful Death 101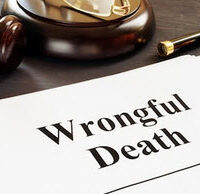 Losing a loved one is always traumatic, regardless of the manner in which you lose them. However, if they died because of another person's reckless, negligent, or malicious actions, you may have a chance to receive compensation for your loss. It does not bring back your loved one, obviously, but it can help with funeral expenses and bills during a time in which grieving and healing should be your first priority. Understanding Pennsylvania's wrongful death law is critical if you decide to seek compensation for your loss.
Carrying On A Decedent's Claims
In Pennsylvania, wrongful death is defined as one caused by the "wrongful act[,] negligence[,] unlawful violence[,] or negligence of another." It is a civil suit, and it is filed by the personal representative of the decedent's estate in most cases (though if the personal representative does not file suit within a certain time frame, any of the decedent's beneficiaries can then file on their own behalf if they are inclined). It is not the same as a survival action, which is a lawsuit or cause of action that the deceased person had during their lifetime, which can then be carried on by a representative.
Generally, a wrongful death action will be filed as if it is a personal injury case on behalf of the decedent – in other words, if someone dies as a result of someone else's alleged negligence or recklessness, the deceased person would have had standing to bring a personal injury suit had they survived. Since they did not, their beneficiaries are now bringing suit based on the injuries the decedent suffered and how they (the family or other beneficiaries) suffered as a result. If someone is killed in a car crash caused by someone else's reckless driving, that person would have been able to bring a personal injury suit had they survived. Since they did not, their representatives will do so for them.
Damages Will Vary
Only surviving spouses, minor children, and parents of the deceased can recover in a Pennsylvania Wrongful Death Action. In terms of specific damages in wrongful death cases, both tangible and intangible losses may be counted, depending on the specifics of your situation. Tangible and quantifiable bills like medical expenses, funeral costs and lost support may be sought in a wrongful death suit. Traditional tort damages, such as pain-and-suffering, loss of earnings, loss of earning capacity, etc. are recoverable through a Survival Action. The Survival Action can enhance the recovery of the heirs and beneficiaries
It is also important to keep in mind that Pennsylvania law does have a strict statute of limitations as to how long one can wait before filing a wrongful death lawsuit or survival lawsuit; the representative or beneficiary must file a Wrongful Death Action within two years of the deceased person's passing (not the date of the accident; if someone, for example, was injured in January and did not pass away until March, The Survival Action must be filed within 2 years of the date of the accident so the better practice is to file the Survival Action and the Wrongful Death Action at the same time, the clock would not begin to tick on the time to file until March). It may seem short, but memories begin to fade in a very brief time, and lawmakers generally want these types of important lawsuits to be filed as soon as possible so that relevant information stays fresh.
Contact An Experienced Attorney Today
After losing a loved one, the best thing one can ask for is to have someone who can help shoulder the load of paperwork and decisions, while you try to get your life back to normal, or as close as it can get. The dedicated and compassionate Scranton wrongful death lawyers at the Needle Law Firm can help you decide what to do after the shock of losing someone, and support you in trying for the fairest possible outcome in court. Contact us today for a free consultation. We serve Scranton, Stroudsburg, and most of northeastern Pennsylvania.
Resource:
legis.state.pa.us/cfdocs/legis/LI/consCheck.cfm?txtType=HTM&ttl=42&div=0&chpt=83&sctn=1&subsctn=0
https://www.needlelawfirm.com/fatal-workplace-accident-triggers-award-of-workers-compensation-benefits-and-a-900k-civil-settlement/