Burn Injuries in Pennsylvania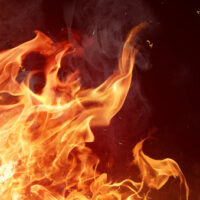 Very often, burn injuries are thought of as personal injuries that people cause themselves. However, it is very common for people to experience burn injuries due to another person's reckless or negligent conduct. When this does happen, they are entitled to bring suit against that person to try and recover compensation for the harm they have suffered. If you have experienced this situation, it is a good idea to understand the law in Pennsylvania surrounding these issues.
Fire Is One Cause Of Burns
Burn injuries can be quite severe, ranging from mere redness or discomfort in a first-degree burn to leathery, waxy skin in a third-degree burn. Infection and blood loss can result in long-term damage, and in extreme situations, may even result in amputation of a limb or death. This is especially true in very young children; statistics from the Centers for Disease Control report that burns were the 3rd leading cause of death for kids aged 5-9, and the 5th leading cause for children aged 1-4.
Something many people do not understand is that while exposure to fire is the most common method of sustaining a burn injury, it is only one cause among many. Fire causes thermal burns, while electricity causes electrical burns (as one might imagine), chemical burns are sustained by contact with chemicals or their fumes, and flash burns are sustained when experiencing sudden, intense heat, such as in an explosion. A burn is defined in a medical sense as damage to the skin sustained by exposure to extreme heat, flame, or chemicals, and this is the definition that is used in most legal contexts as well. Despite this, sometimes injuries are not properly treated because of confusion over nomenclature.
Seeking Compensation
A burn injury is like any other personal injury suffered in Pennsylvania – if you believe that it was caused by someone else's reckless or negligent conduct, you may be able to seek compensation for your medical bills and other damages (for example, intangible but very real damages like loss of quality of life). Some types of burn injuries may be able to be tried under specific legal theories like premises liability – for example, if you are injured in a house fire caused by poor maintenance, you may be able to sue the landlord on a theory of premises liability – but most will be cases of ordinary negligence.
In any negligence case in Pennsylvania, you as the plaintiff must be able to establish that four things happened in order to prevail at trial. They are: (1) you must be able to show that the defendant owed a duty to exercise reasonable care toward the plaintiff; (2) showing that that duty of care was breached; (3) showing that the breach of duty was directly due to the defendant's conduct; and (4) that the breach caused you tangible harm. It may be that the defendant is able to argue that you were partially responsible for your own injuries – but if this is true, it does not bar recovery as long as you are held less responsible than the defendant. In other words, if you are held to be 49 percent responsible and the defendant 51 percent responsible, you can still generally recover 51 percent of your costs from the defendant.
Call A Stroudsburg Personal Injury Attorney
Being burned is an injury that can take months or even years to recover from, and in order to focus on recovery, you need an experienced attorney who can handle the heavy lifting in court. The Needle Law Firm has handled countless personal injury cases, and we are not afraid to fight for you and your interests so that you receive the fairest outcome possible. Contact our offices today for a free consultation; we serve most of northeastern Pennsylvania, including Scranton, Stroudsburg, Milford, Wilkes-Barre, Honesdale and other areas.
Resources:
legis.state.pa.us/WU01/LI/LI/CT/HTM/42/00.071.002.000..HTM
webappa.cdc.gov/sasweb/ncipc/mortrate.html