Pedestrian Accidents In Pennsylvania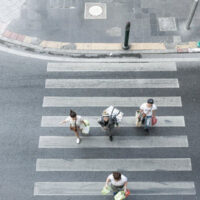 Statistics from the National Highway Traffic Safety Administration (NHTSA) estimate that nationwide, approximately 6,000 pedestrians were killed in accidents with automobiles in 2017. While this is a slight downturn from the previous year, the fact remains that pedestrian casualties in accidents are disproportionately high and cause serious suffering. If you have been hit by a car as a pedestrian in Pennsylvania, you may be able to seek compensation from the driver.
Rights & Responsibilities
Some accidents are caused by pedestrian error, despite popular misconception. Pennsylvania law does stipulate that pedestrians must not "suddenly leave" a "place of safety" and create a hazard for drivers, and it is unlawful in Pennsylvania to cross the street anywhere except a crosswalk, and many accidents have occurred because pedestrians do these things. However, while pedestrians owe a duty to exercise reasonable care vis-a-vis auto drivers, automobile drivers also must exercise reasonable care, and many do not.
Automobile drivers must exercise reasonable care, but they also must not break the law. Pennsylvania law recognizes a concept called negligence per se, which means that if someone breaks a law designed to protect a certain class of people, and injures someone of that class by doing so, that is per se proof of negligence, which can help a plaintiff prove their case. An example would be if someone drove while intoxicated (breaking a law) and injured a pedestrian or motorist (DUI laws are designed to protect people sharing the road with these drivers).
How To Seek Compensation
In order to establish that a driver was negligent in causing your injuries, you must be able to show that he breached his duty to exercise reasonable care, and that his breach was the direct cause (with no intervening cause) of any harm you suffered. In Pennsylvania, the duty of care itself is generally recognized; it is understood that everyone on the road has a duty to exercise reasonable care toward other motorists and pedestrians; all laws must be obeyed and every precaution taken so as not to cause injury or death.
It is worth noting that if you are held to be partially responsible for your own injuries, you may still be able to recover. Pennsylvania law holds that unless your percentage of fault is higher than the defendant's or multiple defendants', you as the plaintiff may still recover; your percentage of fault will simply lower the amount of any jury award. So, for example, if you are deemed to have been 20 percent at fault, any recovery you obtain will be lowered by 20 percent.
Contact A Pennsylvania Pedestrian Accident Lawyer
If you have been involved in an accident with an automobile, your medical bills can add up. The Scranton personal injury lawyers at the Needle Law Firm are ready to work hard to give you the best chance to recover for your injuries. Contact us today for a free consultation. We serve Scranton, Wilkes-Barre, Stroudsburg, and most of northeastern Pennsylvania.
Resources:
legis.state.pa.us/WU01/LI/LI/CT/HTM/42/00.071.002.000..HTM
nhtsa.gov/road-safety/pedestrian-safety
https://www.needlelawfirm.com/burn-injuries-in-pennsylvania/