Philadelphia Casino Sued For Negligent Security After Brutal Robbery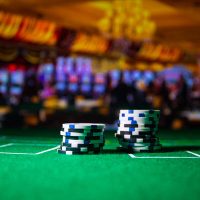 If there's one type of business that you expect to have solid security, it's a casino. These establishments are famous for their mixtures of money and liquor – which often proves to be a dangerous combination. The American "Wild West" has a strong tradition of gambling – and many of the card games in Western saloons would quickly devolve into shootouts. Modern casinos face the same basic dangers, and you can argue that these establishments are legally expected to protect their own patrons from similar attacks or robberies. One Philadelphia casino is now being sued after one of its patrons suffered a brutal robbery.
Elderly Casino-Goer Sues After Being Brutally Robbed 
On October 28th, it was reported that a 71-year-old man had filed a lawsuit against Parx Casino in Philadelphia after he had been "brutally assaulted and robbed" at 2:30 AM on October 1st, 2022. According to the lawsuit, the assault was carried out by another patron on the casino's property.
Despite the casino having security guards and surveillance cameras, they apparently failed to detect the danger and prevent it from happening. In addition, the lawsuit accuses the casino security staff of completely failing to intervene while the assault was taking place – only responding in a delayed manner after the attack had already been carried out. One of the man's lawyers also claimed that security personnel were not patrolling the parking lot, and that they were simply not monitoring the surveillance camera feeds. It is not clear what kind of injuries this man suffered, but due to his age we can assume that they were quite severe.
Parx Casino Sues Pace-O-Matic 
On October 27th, Parx Casino filed its own lawsuit against Pace-O-Matic, accusing the company of creating deceptive "skill games" that are simply cleverly-designed slot machines. Parx claims that this violates the state's existing regulatory framework on gambling. On the other hand, POM argues that because there is an element of skill involved, their machines do not technically constitute gambling devices. POM's machines are not taxed or regulated, and Parx is concerned that they represent an unfair level of competition in the gambling industry. This shows just how litigious the gambling industry can be in Pennsylvania.
What is a Negligent Security Claim? 
Plaintiffs can file negligent security claims when they are injured by preventable violence on a property owner's premises. They must prove that the property owner knew or should have known that there was a legitimate risk for violence on the premises and yet took no steps to address that danger.
Where Can I Find a Qualified, Experienced Personal Injury Attorney in Pennsylvania? 
If you've been searching for a qualified, experienced Scranton personal injury attorney, look no further than the Needle Law Firm. Over the years, we have helped numerous injured plaintiffs – and we know that negligent security is a legitimate concern for many establishments throughout the state. If a business owner failed to protect you from a clearly dangerous situation, you have every right to explore your legal options. Book your consultation today, and we can guide you towards a fair financial settlement that will cover your medical expenses, missed wages, and much more.
Sources: 
prnewswire.com/news-releases/wapner-newman-files-lawsuit-against-parx-casino-for-negligent-security-301662067.html
casino.org/news/parx-casino-sues-pennsylvania-skill-gaming-company/