Rollover Auto Accidents In Pennsylvania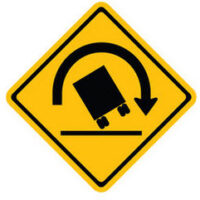 Rollover accidents occur with depressing regularity on Pennsylvania roads, and many people remain unaware of just how dangerous they can be. If you manage to make it through a rollover crash that is caused by another person's negligence, you are likely to have serious medical bills, but you may be able to bring suit to seek compensation from the negligent driver. Consulting an attorney is a good idea either way.
Statistics Show Increased Fatalities
While the most recent available specific data is somewhat dated, the trends appear to have remained similar as time goes by. The National Highway Traffic Safety Administration (NHTSA) reports that only around 2 percent of traffic accidents in the tracked year were rollover-related. However, as many as 35 percent of all the auto accident deaths in that year were sustained in those rollover accidents – in other words, 2 percent of the accidents encapsulated 35 percent of the deaths. That alone illustrates the rollover's deadly nature.
The reasons that these types of accidents are so dangerous are many. Type of vehicle matters – due to a different center of gravity, SUVs are more likely to roll than standard autos. Lack of a seatbelt is another major potential cause for many fatalities, but in a rollover crash it is perhaps especially dangerous – without that support people are much more likely to sustain serious injuries. Another common one is substance abuse – the NHTSA data reports that a substantial minority of rollover drivers tracked admitted to drinking and driving. Most rollover accidents are "tripped" – that is, there is some external factor that acts on the car and causes the accident, such as a steep slope or soft soil on the side of the road.
If You Are Injured
Because of the dangerous nature of rollover accidents, and the tendency of some types of cars to roll more often than others, the tendency to sustain injuries is higher than it might be in other types of crashes. If you have been injured in this type of accident, it is generally worth investigating the feasibility of bringing suit. However, it is also worth noting that the majority of rollover accidents tend to be single-vehicle, and single-vehicle accidents can be difficult to bring suit over because the defendant can simply argue that the plaintiff caused it themselves.
As any other auto accident case, you will have to show that certain factors were present in order to hold the defendant liable: a breach of the duty to exercise reasonable care for other motorists, a showing that the breach of duty resulted in harm to you, and a showing that your harm came about because of the defendant's conduct. It is also important to keep in mind that Pennsylvania does use a modified comparative fault system, which holds that if your percentage of assigned fault is greater than the defendant's (or the combined defendants', in a case with more than one), you may not recover.
Call Our Auto Accident Attorneys Today
Rollover accidents are no joke, and many people who have been through them count themselves lucky to be alive. If you are among them, but you need help paying medical bills, it may be a good idea to consult a knowledgeable rollover accident lawyer today. The Needle Law Firm has handled many of these cases, and is happy to sit down with you to try and guide you through what can be a complex process. Call us today to schedule an appointment; we serve Scranton, Stroudsburg, and most points in Northeastern Pennsylvania.
Resource:
safercar.gov/Vehicle-Shoppers/Rollover/Fatalities