Suing For A Bicycle Accident In Pennsylvania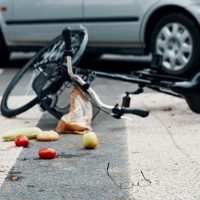 Cyclists in Pennsylvania have important rights, but often these rights are completely ignored by negligent motorists. A range of different negligent acts may cause serious harm to cyclists across the Keystone State, and in many cases these accidents cause fatalities. If you have been injured while riding your bicycle, you can file a personal injury claim against the negligent party that caused the accident. This can provide you with compensation for missed wages, emotional distress, medical expenses, and much more.
What Kind of Negligence May Cause Bike Accidents? 
There are many different kinds of negligence that may lead to bike accidents. Drivers may commit various traffic violations and acts of misconduct that lead to bicycle crashes. Here are some examples:
Distraction, such as texting and driving, watching videos, eating while driving, etc.
Intoxication, such as drinking and driving, smoking marijuana and driving, or taking intoxicating prescription medication
Speeding, including street racing or speeding in school zones
Reckless driving, such as not shoulder-checking or veering into a bike lane
Aside from drivers, other parties may also cause bike accidents due to their negligence. For example, a bike manufacturer may cause an injury due to a defective product. This is becoming especially common with the rise of e-bikes, as many of these products carry a number of hazards. These might include defective brakes, battery fires, and much more.
In rare cases, the city or the state itself may cause bike accidents due to negligence. For example, certain road signs may direct cyclists into oncoming traffic due to a mistake in city planning.
What Injuries Might a Cyclist Suffer in a Crash? 
Head injuries are especially common in bike crashes. Often, cyclists are thrown over their handles after head-on impacts, causing them to strike objects with their skulls. Although helmets can help mitigate these impacts, the safety potential of this headwear is often overstated. A lightweight bike helmet may struggle to prevent lasting injuries, such as TBIs and brain bleeds.
Another common injury is road rash. This occurs when cyclists are ejected from their bikes, causing them to slide over cement or asphalt. This accident causes serious lacerations, often shearing away several layers of skin. In some cases, this leaves victims with permanent disfigurements.
In addition, fractured bones are common in bike crashes. These can occur from a range of different impacts, and they can affect virtually any part of the body.
Where Can I Find a Qualified, Experienced Injury Attorney in Pennsylvania? 
If you've been searching for a qualified, experienced Scranton bike accident attorney, look no further than the Needle Law Firm. Over the years, we have helped numerous injured plaintiffs fight for their rights and pursue compensation in the Keystone State. We know that bike accidents can cause traumatic, life-altering injuries for innocent people. You deserve the opportunity to pursue compensation for your injuries, so book your consultation today to get started.
Source: 
huntingtonnow.com/huntington-man-sues-for-injuries-in-pennsylvania-bike-crash