Suing For Burn Injuries In Pennsylvania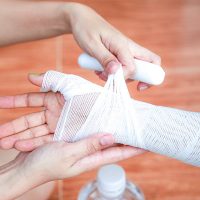 Suffering serious burns can be a life-changing experience for victims in Pennsylvania. These injuries can be incredibly painful, and in fact some say that a severe burn is one of the most painful things you can possibly feel. Burn injuries can also be debilitating, leaving you bedridden for months while your skin slowly heals. This prevents you from working and results in considerable missed wages. In addition, you might need to receive advanced reconstructive surgery, and this type of treatment is anything but affordable. Finally, a burn injury can lead to legitimate psychological issues, especially if it results in disfigurement of some kind. With all of these issues in mind, you might be wondering whether you can sue for your burn injury and receive compensation.
If you're serious about filing a personal injury claim for your burn injury, you need to get in touch with a qualified, experienced personal injury attorney in Pennsylvania at your earliest convenience. It's very important to act swiftly, because the statute of limitations can prevent you from suing if you delay unnecessarily. During your initial consultation, you can explain the details of your accident, and your attorney will provide you with sound legal advice. They may recommend that you file a lawsuit against a negligent party that was responsible for your burn injury.
Understanding Burn Injuries 
Burn injuries may be caused by a number of different factors, and they're not always heat-related. For example, burns can also be caused by friction, radiation, chemicals, and electricity. Burns are also divided into several categories based on severity:
First-Degree Burns: Because these burns only affect the outer layer of your skin, they are considered the least serious. A mild sunburn can even be classified as a first-degree burn.
Second-Degree Burns: These burns are more serious because they penetrate the outer layer and damage the underlying "dermis" layer.
Third-Degree Burns: These burns damage two full layers of the skin. This can result in the skin turning black, brown, white or yellow. Ironically, these burns can be less painful than second-degree burns because the nerve endings are damaged.
Fourth-Degree Burns: These burns destroy all layers of the skin and can penetrate into the bones, organs, muscles, and tendons. This is the most severe category, and these burns can be fatal.
When Can I Sue for Burn Injuries? 
You can sue for burn injuries whenever someone else's negligence played a role in your accident. For example, a restaurant owner might have allowed boiling fat to spill on you. Or perhaps your landlord failed to install proper fire safety equipment in your home. There are many potential ways in which negligence can lead to burn injuries, so get in touch with an attorney to determine whether you can sue.
Enlist the Help of a Qualified Attorney Today 
The Scranton personal injury lawyers at the Needle Law Firm can help you if you suffered burn injuries. Over the years, we have assisted numerous injured plaintiffs as they strive for fair, adequate compensation. We understand that burn injuries can be detrimental in physical, financial, and psychological ways. We'll help you seek justice for everything you've been forced to endure so you can heal in the best way possible. Book your consultation today to learn more about your legal options.
Source:
uofmhealth.org/conditions-treatments/surgery/plastic/burn-reconstructive#:~:text=The%20goals%20of%20reconstructive%20burn,surgeon%20often%20lasts%20many%20years.