What is an Easement in Pennsylvania?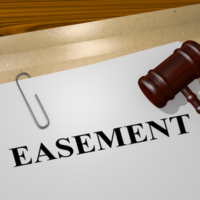 While hiring a real estate attorney often isn't necessary in Pennsylvania, there are certain situations that require the assistance of a legal expert. All homebuyers in the Keystone State essentially want to purchase their dream home in a convenient, easy manner. Unfortunately, there are a number of unforeseen complications that can make a home purchase much more stressful than it needs to be. One of these potential situations involves easements. If you've never heard of an easement before, you might be confused about how this affects you.
If you're dealing with an issue related to an easement, it's probably a good idea to get help from an expert. Not only can a qualified, experienced real estate attorney help you understand how easements work, but they can also help you address the issue. For something like this, you should search for an attorney who specializes in real estate law. With an expert by your side, it becomes much easier to approach this situation in an effective manner.
What is an Easement?
A property easement allows other entities to use a piece of land for specific purposes, regardless of who actually owns that land. If you're buying a piece of property, you should always check for easements, as it could mean that you're forced to share your property with another entity. An easement doesn't mean that other people can come and go as they please, but it does mean that there could be disturbances and inconveniences down the road.
A classic example of an easement is if a utility company needs to access an electrical pole on your land. An easement allows them to access the property when needed. You might also have an easement on your property if people need to move through your land to access a main road or something of that nature.
Easement Appurtenant
While there are many different types of easements, most homebuyers should be primarily concerned about a potential "easement appurtenant." This type of easement is tied to the property itself, and not any particular owner. When a property owner sells the land, the easement is transferred automatically to the new owner. It's important for homebuyers to look through the disclosures in order to find mention of any easements on the property.
Can You Get Rid of an Easement?
It is possible to get rid of an easement, but you'll have to go through a legal process with the help of an attorney. This is called "challenging an easement." It's important to go through the proper legal process. If you simply stop the dominant estate (the people who hold the easement) from accessing your property, you could be hit with a lawsuit yourself.
Consider the Potential Benefits
If you want to avoid going to court, consider the potential benefits of accepting the easement appurtenant. If you discover that an easement exists on the property you wish to buy, you may be able to negotiate a significantly lower price. If the easement does not cause a major inconvenience, you could get an amazing deal. In addition, utility companies may also compensate you for easements, although this usually only happens when you grant the easement, and not if you simply "inherit" the easement by buying a property.
Enlist the Help of a Qualified Real Estate Attorney Today
If you're dealing with issues related to easements, it makes sense to enlist the help of a qualified Northern Pennsylvania real estate attorney. Reach out to Needle Law Firm today, and we can develop an action plan together.
https://www.needlelawfirm.com/who-should-i-choose-as-my-executor-in-pennsylvania/