Can I Sue for Property Damage in a Personal Injury Lawsuit?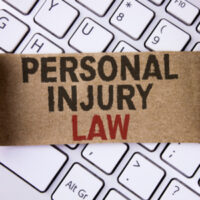 In many situations, innocent victims in Pennsylvania have to deal with both property damage and personal injury after experiencing an accident. These individuals are often understandably quite concerned about the costs of their damages. Not only must they handle various medical bills associated with their injuries, but they must also pay for repairs to their property. In most car accidents, victims have to deal with wrecked cars in addition to their injured bodies. In other situations, people's houses might be damaged while they suffered injuries due to the actions of a negligent individual.
If you're wondering whether you can sue for property damage as part of your overall personal injury lawsuit, it makes sense to consult with a legal expert. When you work with a qualified, experienced personal injury attorney in the Keystone State, it becomes much easier to approach the legal system with confidence and efficiency. These professionals can assess your unique situation and help you move forward.
A Stunning Example of Property Damage in Pennsylvania
In a shocking accident on March 16th of 2021, a car overturned in Hershey before landing upside down on someone's front porch. The 85-year-old driver was immediately transported to a nearby hospital for treatment. It is unclear how badly the porch was damaged, but it belonged to a business. This business will probably have the opportunity to receive damages through the driver's insurance policy. If that amount proves to be insufficient, it can turn to its own insurance policy.
Now imagine if someone had been sitting on that front porch, completely distracted while sipping a cup of coffee. It could have been disastrous, and it would have added a completely different element to this situation. If someone on the porch had been severely injured, they would then have the ability to file a personal injury lawsuit and a property damage claim. Perhaps something similar has happened to you.
Can You Claim Property Damages in Your Personal Injury Lawsuit?
Most qualified and experienced personal injury attorneys will have the ability to handle property damage claims and personal injury claims as part of the same general "task." While both of these matters will be handled together by your attorney, they must be filed separately. If you lump both matters together, your property damage claim could negatively affect the total amount of your personal injury settlement.
In many cases, you stand to receive a larger settlement if a car crashed into your home compared to damage to your automobile, since repairs to homes can be more expensive than repairs to automobiles. On the other hand, your car might have been quite expensive. In any case, it may be much easier to receive compensation for these damages to your property if you have suffered an injury during the accident.
Enlist the Help of a Qualified Attorney Today
If you suffered damages due to someone else's negligence, it's important to seek help from a Northern Pennsylvania personal injury attorney as soon as possible. Reach out to Needle Law Firm at your earliest convenience, and we can help you get the compensation you need to move on with your life.
Resource:
abc27.com/news/local/vehicle-accident-reported-in-hershey-car-overturns-onto-porch-near-ridge-road/
https://www.needlelawfirm.com/what-is-an-easement-in-pennsylvania/