Can I Sue for Injuries Sustained on a Pennsylvania Golf Course?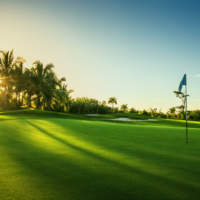 Many individuals in Pennsylvania pass the time by enjoying a good old-fashioned game of golf. While this sport is generally viewed as far less dangerous than many others, hazards still exist. This is especially true when you consider the various risk factors that exist on a typical golf course, such as malfunctioning golf carts and intoxicated players. If you have been injured on a golf course, you may be wondering whether you can recover compensation in order to cover damages like medical costs or missed wages.
If you have suffered injuries on a Pennsylvania golf course, you should reach out to a qualified, experienced attorney as soon as possible. These legal professionals can assess your situation and make sure that you're pursuing a settlement in the most efficient manner possible. There's no need to sit back and accept the cost of your injuries when there are legal professionals who are more than willing to help.
When is a Golf Course Liable?
If you have suffered injuries on a golf course, the likely outcome is a premise liability lawsuit against the owner of the golf course. In order to gain compensation, you need to show that this owner was aware of the hazard and did nothing to address the problems.
A typical example is an injury caused by a slip and fall. If there were no real hazards and you simply slipped and fell while on the green, there's not much you can do. However, the property owner becomes liable if he allows certain hazards to exist. For example, perhaps there was a sizable hole or uneven patch of earth in the green that caused you to lose your footing.
You can also sue the owner for allowing players to use defective or malfunctioning golf carts. It's their responsibility to check these golf carts for issues and maintain them carefully. If you find yourself behind the wheel of a golf cart without proper brakes or safety features, a disastrous scenario can ensue.
It's worth pointing out that property owners can shield themselves from liability by creating some kind of signage or warning system that highlights various safety hazards. For example, they could put a sign or a pylon near a hole in the green to make sure that players do not lose their footing. They might also mark certain golf carts as "out of service." As long as they create these signs, they can claim that they took the necessary steps to avoid harm. If there were no signs posted, you stand a much better chance of receiving compensation for your injuries.
Enlist the Help of a Qualified Attorney Today
If you've been searching for a skilled Northern Pennsylvania personal injury attorney who can help you with your golf course injury, look no further than Needle Law Firm. Thanks to a wealth of experience with a variety of personal injury cases, we can help you pursue an adequate, fair settlement amount. We are more than familiar with the various elements of a personal injury claim, and we'll make sure you're pursuing justice in an effective manner. Reach out today, and we can start developing an action plan together.
Resource:
sun-sentinel.com/local/broward/fort-lauderdale/fl-ne-golf-cart-hit-run-20201008-oqlhtlm7jvg7peqceu3mc4ilse-story.html
https://www.needlelawfirm.com/what-is-an-easement-in-pennsylvania/