How the Right Medical Expert Evidence Can be Key to Success in Your Pennsylvania Workers' Compensation Case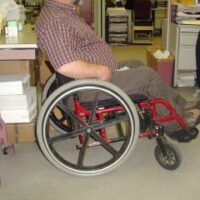 If you have suffered an injury at work that has left you disabled (and unable to work), even if that disability is only temporary, it is undeniably a stressful time for you. You may reasonably be concerned about continuing your career and continuing to earn an income. An award of workers' compensation benefits may be an important aid. You workers' compensation case, then, is obviously very important to you, so make certain you have an experienced Pennsylvania workers' compensation attorney on your side.
There are many things that go into a successful workers' compensation claim hearing, and with which your worker's compensation attorney can help. Take the case of Steen. Steen was a skilled craftsman who performed carpentry, flooring, and plumbing work for his employer. One day, while using a sawzall with a six-inch blade to cut floor joists, the blade pinched, jumped, and hit the worker's right knee. Although Steen originally addressed the wound with a first aid kit, he later began experiencing great pain and eventually ended up in the hospital, where he underwent surgery on the knee.
The craftsman filed a claim for workers' compensation benefits. In many workers' compensation cases, much of the evidence that the judge will have with which to decide your claim will come from doctors – both yours and those retained by the employer. Achieving a successful result can often depend on getting medical evidence that is sufficient…and sufficiently persuasive.
Steen's doctor testified that the sawzall accident caused Steen to suffer an exacerbation of pre-existing tears to the lateral and medial meniscuses of his right knee. The cut also caused the onset of avascular necrosis in that knee. The employer's medical expert, a board certified orthopedic surgeon, concluded that Steen had only suffered a "small, superficial laceration that was debrided and repaired." That doctor concluded that the worker was fully recovered and that the avascular necrosis in that knee was completely unrelated to the sawzall accident.
Based upon all of the testimony, the judge ruled for Steen, deciding that the injuries rendered him disabled. The judge stated that the worker's doctor was slightly more credible than the employer's doctor because Steen's doctor had examined him several times, while the employer's orthopedic surgeon examined the worker exactly once.
Having a case to present to the initial workers' compensation judge that is strong and persuasive is extremely important. Higher courts are limited in the bases upon which they can overturn a judge's opinion. The workers' compensation judge is the one who will decide the credibility (or lack thereof) of your witnesses and your employer's witnesses in your claim proceeding. As the Commonwealth Court explained in Steen's case, appeals courts generally cannot reweigh evidence or re-make credibility determinations. In other words, the ruling in Steen's favor stood.
Your workers' compensation case can, if successful, have a substantial positive impact on your life and the lives of your family members. Give yourself a better opportunity to succeed in your case by retaining knowledgeable counsel. The skilled Pennsylvania workers' compensation attorneys at Needle Law Firm have been providing dedicated legal representation for many years to our workers' compensation and other injury clients.
Contact us today for a free, no-obligation consultation by calling (570) 344-1266.