How To Sue After A Semi-Truck Crash In Pennsylvania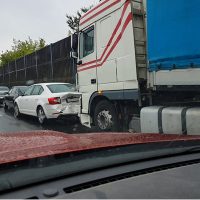 If you've been hit by a semi-truck in Pennsylvania, you're probably dealing with significant damages. These damages might take the form of injuries, psychological trauma, property damage, or a combination of all three. These damages are more likely to be severe after a semi-truck crash because these vehicles are heavier, larger, and less maneuverable. So how can you sue after this type of accident?
Your first step should be to get in touch with a qualified, experienced personal injury attorney in Pennsylvania. These legal professionals can help you strive for the best possible results, allowing you to hold negligent truckers accountable while also receiving a fair, adequate settlement. You can use this settlement to pay off medical bills, cover missed wages, and much more. It's best to get in touch with a lawyer as soon as possible if you're serious about achieving real results.
Who Do I Sue? 
In most cases, you'll want to sue the trucking company rather than the individual trucker. Although it might seem more logical to sue the individual who actually caused your crash, this is not a profitable strategy in most cases. Truckers typically do not have access to large sums of cash, while trucking companies are more likely to have the funds necessary to provide considerable settlements.
Examples of Truck Accidents in Pennsylvania 
On June 1st, it was reported that a fatal truck accident in Pennsylvania had left one man dead (1). The accident occurred when a semi-truck collided with a second semi-truck that was illegally parked on Interstate 81. The driver of the moving truck was quickly taken to a nearby hospital, where he was pronounced dead soon thereafter. The driver of the parked truck seems to have escaped without any injuries whatsoever, and police later determined that he had parked unlawfully along the roadway. This shows that negligence among truck drivers is relatively common.
Semi-Truck Accident Spills 15,000 Pounds of Hot Dog Filler Across Highway 
On May 24th, it was reported that a semi-truck had crashed on I-170 near Rostraver (2). The incident had spilled tens of thousands of pounds of hot dog filler – the equivalent of 7 tons. This caused traffic to come to a standstill for five hours while crews were mobilized to clean up the mess. Although the trucker and one passenger were treated for injuries at the scene, they refused to be transported to a nearby hospital. It was later determined that the truck was speeding at the time of the crash, and that he was struggling with faulty brakes that had not been properly maintained or repaired.
Enlist the Help of a Qualified Attorney Today 
For help from a skilled Scranton personal injury attorney, look no further than the Needle Law Firm. Over the years, we have helped numerous injured plaintiffs pursue justice and fair compensation – including those who have been injured by semi-trucks. We know how devastating these injuries can be, and we know how to approach this difficult situation with a sense of confidence and efficiency. Book your consultation now to get started.
Sources: 
cdllife.com/2022/police-trucker-dead-after-crash-with-illegally-parked-semi-truck/
businessinsider.com/truck-accident-spills-15000-pounds-hot-dog-filler-road-2022-5