Suing For A Wrist Injury After A Pennsylvania Slip And Fall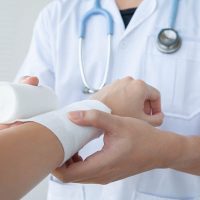 Slips and falls can lead to serious injuries for victims in Pennsylvania, and one potential injury involves the wrist. Some might assume that a broken or sprained wrist isn't a major problem – especially considering falls can lead to head injuries or fractured hips. But wrist injuries can indeed be severe, and in some cases they may lead to life-changing financial and health-related consequences. If you have suffered a serious wrist or hand injury after a fall, you should consider your legal options.
In order to consider your legal options, you should probably get in touch with a qualified, experienced personal injury attorney in Pennsylvania. These legal professionals can assess your unique situation and determine whether it's a good idea to sue. If so, they can guide you forward in an efficient, confident manner. A lawyer can assist you with virtually every aspect of your lawsuit, including gathering evidence, negotiating for a settlement, and representing you in court if necessary.
The Consequences of a Wrist Injury 
A wrist injury can lead to a number of consequences for injured victims. First of all, there is the obvious pain and suffering associated with these injuries. A wrist injury can be very uncomfortable, and it may require pain medication. In addition, an injured wrist can lead to considerable swelling. It goes without saying that a wrist injury may require weeks of rest – during which you will be unable to work. Even if you work an office job, you still need your hands to type and write. If your work is more physically demanding, you may need to take even more time off. This can lead to significant costs in the form of missed wages.
In addition, you may struggle to pay your medical expenses as you attempt to heal. Medical treatment can be very costly in the United States, and you may be concerned about the resulting debt. Finally, the accident itself may have been traumatic, leading to various psychological issues.
How Can You Receive Compensation for a Wrist Injury? 
Fortunately, you can receive compensation for all of these damages by filing a personal injury lawsuit and receiving a settlement. In order to do this, you must hold another party liable for your accident. These negligent parties will then have the ability to provide you with a settlement without needing to move forward with a trial. For example, a property owner could be held liable if they created slippery or unstable walking conditions. They may have allowed ice to build up on their sidewalk or parking lot, or they may have allowed debris or liquids to spill across their floors.
Enlist the Help of a Qualified Attorney Today 
The skilled Scranton personal injury lawyers at the Needle Law Firm are prepared to help you today. With our assistance, you can strive for the best possible results and a fair, adequate settlement. You can use this settlement to pay for all of your damages, including your medical expenses, your missed wages, and even psychological trauma. Book your consultation today, because the statute of limitations can prevent you from taking legal action if you wait too long.
medlineplus.gov/wristinjuriesanddisorders.html