My Child Was Injured Due to Icy Conditions at a Pennsylvania School. What Now?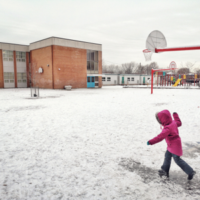 Seeing your child seriously injured is one of the most frightening things any parent can go through. While your first concern might be to help him receive necessary medical treatment, you might also be considering who was responsible. In the winter months, schools in Pennsylvania often deal with considerable levels of snow and ice. This can become a major hazard for innocent students.
Do schools in Pennsylvania have a responsibility to clear away snow and ensure the safety of their premises? The answer is a resounding "yes," but it may be difficult to prove that they were liable in a court of law. Your chances of achieving a favorable legal outcome become much better when you enlist the help of a qualified, experienced personal injury attorney in Pennsylvania.
Why Schools Close for "Snow Days"
In February of 2021, it was reported that schools across Pennsylvania were closing due to heavy snowfall. It's important to understand why schools decide to close in the face of conditions like this. The number one reason is to ensure that children are safe. Roads may be hazardous, and children who walk to school may also face a number of hazards.
While it's true that school administrators are genuinely concerned about students' well-being in these scenarios, they are also wary of potential legal action if they remain open. Schools understand that if children become injured due to their insistence on remaining open, they may be held liable.
Schools are Held to a Lower Standard
If you're planning on suing a school for your child's slip and fall, you should know that they're held to a lower standard compared to a typical property owner in the Keystone State. This is because a school is a government agency, and they are granted something called "qualified immunity" as a result.
For example, if your child slipped and fell in a school parking lot due to ice, proving that the ice actually existed in the first place might not be enough. Perhaps they had known about the ice for days, choosing not to clear it away despite many complaints. Maybe other students had also been injured, and they still didn't do anything to address the issue. In this situation, you would have a much better chance of receiving a settlement.
Enlist the Help of a Qualified Attorney Today
If you have been searching for a dependable  Northeastern Pennsylvania personal injury attorney who can help you pursue justice for your child, contact the Needle Law Firm. We have a wealth of experience with slips and falls due to icy conditions, and we can employ a number of effective strategies to prove that the guilty party was negligent. Reach out today, and we can help you pursue an adequate settlement that will cover your child's damages.
Resource:
abc27.com/weather/winter-alert/central-pennsylvania-school-closings-and-delays-4/
https://www.needlelawfirm.com/what-is-my-northeastern-pennsylvania-personal-injury-case-worth/