Personal Injury Claim Checklist In Pennsylvania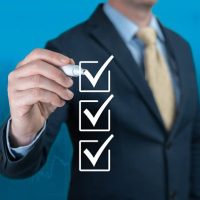 Although many individuals in Pennsylvania may be desperate to get their hands on a settlement after suffering a serious injury, it's best to take a methodical approach. When you slow down and go through all of the necessary steps before you move forward with your lawsuit, your chances of success become much higher. There are several things you need to address during the initial stages of your personal injury lawsuit. Many legal professionals refer to this as a "personal injury claim checklist."
If you've decided to file a personal injury claim in Pennsylvania, you need to get in contact with a qualified, experienced personal injury attorney as soon as possible. This should be one of the first steps you take, as your attorney can guide you forward from the moment you connect with them. If you're not sure about what steps you need to take before your lawsuit, an attorney can help you create a detailed checklist.
Step One: Get Medical Attention 
If you've suffered injuries, the first thing you should do is get the medical attention you need. Don't worry too much about your lawsuit at first. Your health is the number one priority. However, you can still keep legal action in the back of your mind as you receive treatment. Remember that the cost of your medical expenses can be claimed in your lawsuit, so you won't necessarily have to worry about paying for costly treatments out of your own pocket. Keep any receipts, and ask for copies of medical documents. These include doctor's notes, X-Rays, MRIs, CT Scans, blood test results, and so on. These medical documents are all going to be important evidence in your lawsuit later on.
Step Two: Evidence From the Scene of the Accident 
If possible, you should try to take a few photos of the scene of the accident as soon as possible. You can also request that a friend or a bystander do this for you while you receive medical attention. In many cases, the scene of an accident will be cleaned up very quickly, and potential evidence will disappear. Other evidence from the scene of the accident includes police reports. These professionals will provide either written or in-person testimony that supports your claims. In some cases, it may be possible to obtain surveillance footage from the scene of your accident.
Step Three: Wage Information 
You will also need to provide the court with evidence of your wages before and after the accident. By providing this information, you can be awarded sums that cover the true extent of your missed wages. Generally speaking, you'll simply need to provide pay stubs or receipts from paychecks from the weeks prior to your accident.
Enlist the Help of a Qualified Attorney Today 
For help from a skilled Scranton personal injury attorney, reach out to the Needle Law Firm. We have helped numerous injured victims in Pennsylvania over the years, and we know how to help you approach your lawsuit in the most efficient way possible. If you're not sure what you need to do before you move forward, get in touch and book your consultation. We can discuss all of the necessary steps during our initial meeting together.
Source:
phila.gov/services/crime-law-justice/get-a-copy-of-a-public-safety-report/