Can I Sue A Restaurant For A Burn In Pennsylvania?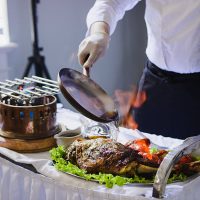 Many personal injury lawsuits in Pennsylvania are the result of incidents that take place in restaurants. These establishments can be deceptively dangerous, and safety hazards can manifest in a number of different ways. Even before you walk in the door, safety issues in the surrounding area can cause you to become injured. However, some of the most serious injuries can occur when patrons are burned by hot liquids.
If you're having trouble figuring out whether you can file a lawsuit, it makes sense to get in touch with a qualified, experienced personal injury attorney in Pennsylvania. These legal professionals understand which situations might lead to a lawsuit. Not only that, but they understand how to make sure your lawsuit is successful. Consult with a qualified legal professional, and you can determine whether or not you can move forward with your lawsuit.
When Might Burns Occur? 
A burn can occur at a restaurant in a number of different ways. A waiter or waitress may spill hot food or liquid onto you while serving you. Hot fat can be especially problematic. You might also be sprayed with oil or grease while walking by the kitchen on the way to the restroom. Perhaps you have been burned by an excessively hot beverage with a faulty lid. The possibilities for burns at restaurants are almost endless.
When Can I Sue for Burns? 
You can sue for burn injuries whenever the restaurant's actions (or inactions) led to your injuries. In some cases, the restaurant is obviously at fault. In other cases, it might not be so obvious, and you may need to use compelling evidence to prove your case. This is why it's so important to work with a qualified, experienced personal injury attorney.
Burns from hot beverages are especially common reasons for personal injury lawsuits. Ever since the famous case of Liebeck v. McDonald's in 1994, people have been suing restaurants for burns related to hot coffee. However, there is no guarantee that you will be provided with a settlement for these kinds of injuries. In 2019, Starbucks won a lawsuit after a Philadelphia woman tried to sue for a burn injury. The court of Pennsylvania came to the conclusion that no warning is required for hot beverages. They also stated that it "should be obvious" that a hot beverage can be hot enough to cause burns.
Burns Can Result in Disfigurement 
It's important to note that burns can result in disfigurement. These types of injuries are viewed differently in personal injury lawsuits because of the non-economic factors involved. Non-economic damages generally include things that are mental or emotional in nature, and a classic example is pain and suffering.
Someone who is disfigured by a burn may suffer a range of consequences in later life. They may feel a crushing lack of self-confidence in the future. Someone who relies on their image for their work may be unable to earn a living due to burns on their body or face. Disfigured individuals may also have trouble pursuing romantic relationships in the future. Because of factors such as these, plaintiffs who have suffered disfiguring injuries typically receive much higher settlements compared to those who have suffered injuries that are merely physical in nature.
Enlist the Help of a Qualified Attorney Today 
If you need help from a skilled Scranton personal injury attorney, contact the Needle Law Firm. We have helped numerous injury victims in Pennsylvania, and we are passionate about fighting for your rights. If you have been injured, you may be dealing with significant medical expenses. On top of that, you may be struggling with missed wages due to your inability to work. With our assistance, you can receive a substantial settlement that provides much-needed financial relief. Book your consultation today, and we can start striving towards a positive legal outcome.
Source:
bloomberglaw.com/product-liability-and-toxics-law/starbucks-dodges-liability-in-lawsuit-over-burns-from-hot-tea