Sig Sauer Lawsuit Shows No Signs Of Slowing Down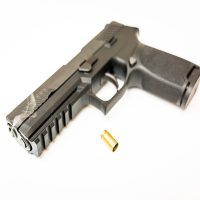 When people first heard that Sig Sauer was being sued, most dismissed it as an impossibility. As everyone knows, gun manufacturers are very difficult to sue in the United States, as they enjoy a considerable degree of legal immunity. But that's not to say that these companies are completely immune from being held accountable in a court of law. And as time has gone on, the lawsuit against Sig Sauer shows no sign of going away anytime soon. So what makes this lawsuit different? Could it really achieve success in a legal system that seems to protect gun manufacturers at all costs?
If you've been injured by a faulty firearm, it makes sense to at least consider your legal options. Although it's true that suing a gun manufacturer can be challenging, it is not necessarily impossible. By booking a consultation with a qualified, experienced personal injury attorney in Pennsylvania, you can receive targeted legal advice and take your next steps with a sense of confidence and efficiency. Remember, internet research can only get you so far, each case is unique.
Why is Sig Sauer Being Sued? 
According to a report from June 16th of 2022, Sig Sauer is facing a class-action lawsuit due to an allegedly faulty pistol that "goes off by itself." Make no mistake – modern firearms are not supposed to do this, and reliable safeties have been an integral part of gun design for decades. Only rare, outdated designs like the Soviet-era Tokarev pistol lack a "safety" that prevents unintentional discharges.
Among other plaintiffs in a class-action lawsuit, an Army veteran based in Philadelphia has sued Sig Sauer for an unintentional discharge that occurred while he was walking down the stairs. The plaintiff alleges that this caused a serious leg injury. Many others have complained of similar issues with the same model of pistol – the P320. An estimated 500,000 P320s are currently in circulation within the United States. Another incident saw a transit officer in Philadelphia experience an unintentional discharge when his holstered P320 went off seemingly without reason.
Are Gunmakers Immune in the United States? 
So are gunmakers immune from lawsuits in the United States? This is something of a myth in the legal world. Although they enjoy a considerable amount of protection, they can be sued – especially when it comes to obvious defects in their products. A more challenging goal is to sue a gun manufacturer for a firearm-related injury due to someone firing at them. As far as the legal system is concerned, the firearm was working as intended – even if the actual act was illegal.
Enlist the Help of a Qualified Attorney Today 
For help from a skilled Scranton personal injury attorney, look no further than Needle Law Firm. With our assistance, you can assess your legal options with a sense of confidence and efficiency. From there, you can adopt an effective action plan and hold negligent product manufacturers accountable for their misconduct. Book your consultation today to take your first steps towards justice.
Sources: 
9news.com/article/news/nation-world/sig-saur-sued/507-afd67917-f505-4633-ac22-1ad6160edb72
cnn.com/factsfirst/politics/factcheck_22838c84-048d-49ed-b50b-30ba482fb524