The Ohio Train Derailment: Can Pennsylvania Residents Sue?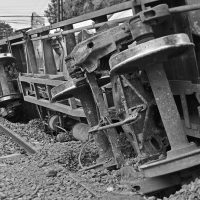 The train derailment has primarily affected residents in East Palestine – but the effects are more far-reaching than many people realize. Pennsylvanians near the chemical spill are suffering legitimate health issues as a result of this industrial disaster – and some are wondering why they're not being considered during the relief efforts. But can you really sue if you have been harmed by this controlled burn and chemical spill? How can you monitor your health and avoid potentially life-altering medical issues?
Pennsylvania Residents Say They're Being Ignored 
On March 1st of 2023, it was reported that Pennsylvania residents living near the Ohio border had been voicing serious concerns about the recovery efforts after the East Palestine derailment and chemical spill. They claim that just because they live on the other side of an arbitrary state border, they're being ignored and left out of the recovery efforts. This is despite the fact that legitimate health issues have been documented in Pennsylvania as a result of this chemical spill.
It's no secret that these powerful industrial chemicals can spread very quickly – especially when they get into fast-moving rivers. This is exactly what happened in East Palestine, with the chemicals being carried by rivers out of Ohio and into Pennsylvania. Despite this, federal emergency responders are focusing on an extremely narrow 2-mile radius around the derailment epicenter.
With all that said, the office of Governor Shapiro insists that its administration is doing everything possible to address the concerns of people in Western Pennsylvania, stating:
"Within the first hours of the Norfolk Southern train derailment, the Shapiro Administration was on the ground in Western Pennsylvania, working to notify residents and provide those affected with the resources they need to stay safe and informed. The health and safety of Pennsylvanians is Governor Shapiro's top priority." 
Can I Sue? 
In order to sue, you generally need to show that you have suffered some kind of injury. Simply being concerned about the quality of your drinking water, soil, and air may not be enough to recover compensation. After all, the injuries haven't actually happened yet. That being said, you can still sue and get "medical monitoring" covered. This means that you can carefully track your health and immediately identify any problems caused by the chemicals. Thousands of fish have already washed up dead, and some people are complaining of bronchitis, headaches, and other medical issues.
Where Can I Find a Qualified, Experienced Personal Injury Attorney in Pennsylvania? 
If you need help with your toxic exposure lawsuit, look no further than the Scranton personal injury lawyers at the Needle Law Firm. We understand that these issues can be incredibly detrimental – and Americans have suffered enough due to the negligence of big corporations and chemical companies. We've seen this story play out before – and it never ends well for the average rural resident. The good news is that you don't need to accept these injuries without putting up a fight in court. Get in touch today, and we can help you pursue the compensation you need and deserve for this toxic exposure.
Sources: 
nbcnews.com/news/us-news/pennsylvania-residents-ohio-chemical-spill-say-left-recovery-efforts-rcna72746
nbcnews.com/health/health-news/ohio-derailment-chemicals-people-diagnosed-bronchitis-rcna71839