Who Is Most Likely To Commit Elder Financial Abuse?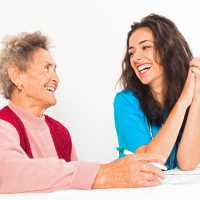 Unfortunately, seniors are incredibly vulnerable to financial abuse. Although there are many other types of abuse that can be just as concerning, financial abuse has the power to affect not just the senior, but also their families. The truth is that their beneficiaries can lose their inheritance due to scams, swindles, and outright theft. Therefore, it is incredibly important to detect financial abuse before it occurs. In order to do this, you should know who is most likely to commit this type of crime. By keeping your eye on the right people, you can protect your senior's financial security in a proactive manner.
Unfortunately, some family members detect elder abuse after the damage has already been done. Their loved one's bank account might have been completely emptied, leaving nothing for anyone to inherit. While this situation can seem hopeless, you should get in touch with a qualified, experienced elder law attorney as soon as possible. There may be ways in which these legal professionals can help rectify the situation. If you're concerned about protecting your senior's financial well-being, an elder law attorney can also take proactive steps before the damage is done, perhaps by establishing a trust or using similar estate planning tools.
They're Right Under Your Nose 
In the vast majority of cases, elder financial abuse is committed by those closest to seniors. These are typically family members that the senior trusts completely. As seniors struggle with cognitive decline and conditions like dementia, these opportunistic family members often step in and gradually start to siphon away their life savings. They can do this in a number of different ways, including:
Asking them to sign certain financial documents without fully explaining them
Stealing high-value items from their rooms, like cash, gold, or bonds
Convincing the senior to "let them handle their finances"
Presenting the senior with questionable investment opportunities
Asking the senior for banking details, passwords, and pin codes
Asking the senior to alter their will
If you spot any of these suspicious activities, you should notify law enforcement or get in touch with an attorney as soon as possible. The offender may face serious criminal offenses as a result of their actions, such as fraud or identity theft.
Other Possible Abusers 
Outside of the senior's immediate family, there may be others to watch out for. If your senior is now housed in an assisted-living facility, you might want to pay close attention to staff members. In some cases, these workers can attempt to win a senior's trust only to swindle them out of their hard-earned money. Finally, you should always be on the lookout for online scams, as seniors can be especially vulnerable to these schemes due to their lack of digital literacy.
Enlist the Help of a Qualified Attorney Today 
For help with your case, reach out to the Scranton personal injury attorneys at the Needle Law Firm. With our assistance, you can protect your senior's financial security in a confident, efficient manner. We all know that seniors can be more vulnerable than others, but that doesn't mean that they need to be defenseless. Book your consultation today, and you can explore a variety of methods to ensure your loved one keeps their life savings and avoids the latest scams.
Source:
legis.state.pa.us/WU01/LI/LI/CT/HTM/18/00.041.020.000..HTM#:~:text=%2D%2DA%20person%20commits%20the,to%20further%20any%20unlawful%20purpose.