Pennsylvania Is Suffering From An Insane Number Of Fires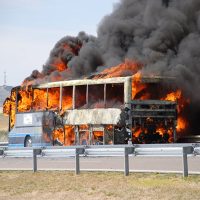 This summer, fires have made headlines in many states – and Pennsylvania is no exception. However, while many fires across America seem to originate in dry forests, the Keystone State faces mostly urban blazes. These fires are especially dangerous, as they affect heavily-populated areas where people live. The sheer number of fires within the past few weeks alone is staggering.
Tour Bus Destroyed by Fire in Pennsylvania 
On September 10th, it was reported that a tour bus had been completely destroyed by a fire on I-80 in Pennsylvania. No injuries were reported, as the occupants managed to get clear as soon as smoke started to billow from the vehicle.
Spring Township House Fire Kills Pet 
On September 13th, it was reported that a fire at a Spring Township had caused "serious damage" while also claiming the life of a family pet. The family allegedly lost everything in the blaze, although no human injuries were reported.
Reese's Factory Goes Up in Flames 
On September 10th, it was reported that a Reese's factory had suffered a "small electrical fire" that activated the facility's sprinkler system. Despite this being a relatively minor blaze, all employees were evacuated and the fire department was called in.
Hopewell Township Destroyed by Fire 
On September 10th, it was reported that a Hopewell Township residence had been completely destroyed by a fire. The blaze started around 2:30 AM, and first responders were too late to save the home from being consumed by the flames. No injuries were reported, and the cause of the fire is still under investigation.
Serious Fire Reported in Oxford 
On September 14th, a fire spiraled out of control – burning through a warehouse, shops, and apartments in Oxford, Chester County. The fire started at 11:30 PM on the previous night, and by the morning firefighters were still trying to get the situation under control. All schools in the area were closed that day. Officials report that the fire started in a warehouse before spreading to nearby buildings. Witnesses say that they saw people running for their lives, but no injuries were reported.
Chemical Fire Breaks Out at Facility in McDonald 
On September 13th, it was reported that a chemical plant had gone up in flames in McDonald, Washington County. The blaze was allegedly sparked by a hydrochloric acid tank that somehow sparked a blaze. Because of the nature of the fire, hazmat crews were called in. No injuries were reported.
Can I Get Compensation for Fire-Related Injuries in Pennsylvania? 
If you have suffered injuries caused by fires, you may wish to get in touch with a qualified, experienced Scranton personal injury attorney. During a consultation with the Needle Law Firm, you can discuss your legal options – including a potential route to compensation. Many fires – especially urban blazes – are caused by negligence. You may have the ability to hold these negligent parties liable. Book your consultation today to get started with an action plan.
Sources: 
pahomepage.com/news/crime-courts/woman-allegedly-sets-boyfriend-on-fire-while-son-is-home/
pennlive.com/news/2023/09/fire-destroys-tour-bus-on-i-80-in-pa-but-no-injuries-are-reported.html
wjactv.com/news/local/crews-on-scene-of-fire-at-centre-county-home